Summer Fix: Heirloom Tomatoes
BlogHer Original Post
If we are allowed just one tomato this year, let it be an heirloom.
"What makes a tomato an heirloom? Well, they have to be from a variety that has been grown for at least fifty years, and it is most often preferred that they be open-pollinated. What does that mean? Well, that means that most heirlooms are not going to be hybrids–they are going to produce seeds that breed true. If you save seeds from open-pollinated tomatoes, you will grow a plant and harvest fruits that (barring natural mutation) have the same characteristics of the plant and fruit from which you harvested the seeds.

In order to get a great heirloom tomato, you need to either grow it yourself, or buy it directly from a local grower. They need to be picked at peak ripeness, when they are fragile and unshippable, and they just about need to be eaten right away. Never refrigerate them–or any other good tomato, for that matter–because it takes away the flavor of the fruit. I always keep them at room temperature on my counter, and they keep for several days that way. This way, they are always at the peak of flavor and texture."

~ read Heirloom Tomatoes Are Here! from Tigers & Strawberries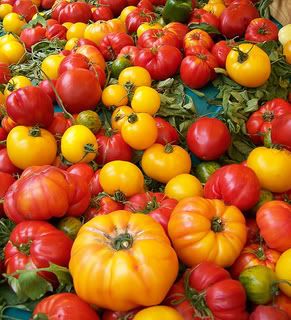 (photo courtesy of Eat Like a Girl)
"I am now a total tomato junkie and heirlooms are my crack. Wow. Who knew they came in so many different flavors and colors? ... Yellow, green, striped, whatever's ripe and available, I can't resist."

~ read You Say Tomato from One for the Table
"Heirloom tomatoes stand-out of the crowd for their so-called ugliness. They also stand out from the other mass-produced automatoes because they appear to have a soul. That sweet expression of compassion tinged with sorrow carved onto their little face can only be interpreted as a deep concern for the dismal state of things in the world. Like most of us, they aren't aware of their own deliciousness but they differ in the fact that they surrender to their fate without a hint of resistance. And their fate is to be on our plates my friends. Zen is all about seeing deeply into the nature of things by direct experience, therefore, a zen chef should seek to embellish heirloom tomatoes without masking their perfect taste. He should also be fully present as he prepares them."

~ read Zen Art of Heirloom Tomatoes from Chefs Gone Wild
BlogHer food editor and 'veggie evangelist' Alanna Kellogg thinks that heirloom tomatoes deserve a simple touch, like Tomato & Onion Salad.
Related Posts
Recent Posts
by Alanna Kellogg
Nate Berkus brings his celebrated style to LG's premium line of kitchen appliances. See how our bloggers incorporated this style with with just a few simple tweaks. Enter "My Kitchen Needs Nate" contest for a chance to win an ultimate dream kitchen.
Read more
Dixie Ultra Moments® Reviews
Celebrate Life's Special Moments with Dixie Ultra Moments®. They're strong enough to hold up to any gathering or party. Go ahead. Celebrate with style and strength!