Summer Peach Balsamic Pizza
Hurry!
Summer's almost to an end, but it's not too late to pick up some succulent produce to make these amazing dishes for dinner. I'll be dreaming about the peach pizza with warm goat cheese, sweet-like-candy balsamic drizzle, savory golden-brown dough, and fresh basil. You haven't lived until you've tried it!
*****
Allow store-bought pizza dough (preferred brand: Trader Joe's) to rest on a lightly floured surface for 20 minutes. Meanwhile, heat 1 cup of balsamic vinegar over medium-high heat in a small saucepan. Bring to a hot simmer, then reduce to low and cook for about 20 minutes until reduced to about 1/4 cup and syrupy. Meanwhile, pre-heat the oven to 500 degrees and thinly slice about 2 peaches that have been pitted. Roll the pizza dough into a long rectangle, about 1/4 inch thick. Brush with olive oil, sprinkle with about 1 cup of grated Mozzarella cheese, 1-2 ounces of crumbled goat cheese, the sliced peaches, and about 3/4 of the balsamic drizzle. Bake in the oven for about 8-10 minutes, or until the cheese has melted and the crust is golden brown. Finish with fresh very thinly sliced basil and the rest of the balsamic drizzle.
From my blog on motherhood, life on the California coast, food, travel, style, and more...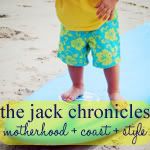 Comments
Recent Posts
by DevonRiesenberg
Save time, money and space with the FoodSaver® Vacuum Sealing System! AND it keeps food fresh up to 5x longer! Read our bloggers' experiences with the FoodSaver® System and see why you should get one for your home. Plus get a chance to win $100 Visa gift card!
Read more
Success Rice Farms Reviews & Giveaways
Success® Rice is the ORIGINAL no mess, no measure boil-in-bag rice that cooks perfectly every time and is ready in 10 minutes. Read our bloggers' posts and see how they make hearty meals by adding Success® Rice into their favorite recipes plus get a chance to win $100.