Summer Veggie-Stuffed Zucchini from Mountain Mama Cooks
BlogHer Original Post
At this time of year, I'm looking for recipes that use my garden veggies before they're gone, and these Summer Veggie Stuffed Zucchini from Mountain Mama Cooks seem perfect for that. Kelley says you can easily adapt the filling for these to any vegetables you have on hand, and this would be a tasty option for a Meatless Monday Dinner!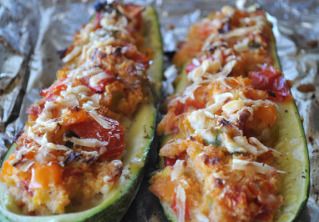 Photo of Summer Veggie Stuffed Zucchini
from Mountain Mama Cooks
Get the recipe for Summer Veggie Stuffed Zucchini from Mountain Mama Cooks.
Have you made something interesting for Meatless Monday this week? If so please share the recipe link or your recipe in the comments. You can find more Meatless Monday recipes by clicking the tag Meatless Mondays.
BlogHer Contributing Editor Kalyn Denny also blogs at Kalyn's Kitchen where she's committed to low-glycemic cooking, and at Slow Cooker From Scratch, where she features "from scratch" slow cooker recipes. Kalyn probably won't ever be a vegetarian, but she does love to make meatless dishes such as Easy Cheesy Zucchini Bake.
Recent Posts
by Kalyn Denny
Hearing your baby laugh is the most amazing sound. Discover why baby laughter is so important, your baby's own Baby Laugh Index™, and much more at www.babylaughindex.com.BlogHer and Bright Starts™ asked 10 bloggers to share what kind of laugh their kids have and to try out one of these fun toys: the Jungle Fun Ball Climber™, the Hide 'n Spin Monkey™, or the 3-in-1 Step 'n Ride Lion™ . Check out their posts and learn how you could win one too!
Read more
Dixie Ultra Moments® Reviews
Celebrate Life's Special Moments with Dixie Ultra Moments®. They're strong enough to hold up to any gathering or party. Go ahead. Celebrate with style and strength!