Sweet Butternut Squash with Chopped Walnuts
For years candied sweet potatoes were a favorite in our home, especially around the holidays, but that's changed in the last several years. Now Sweet Butternut Squash with Chopped Walnuts has taken first place and become the favorite.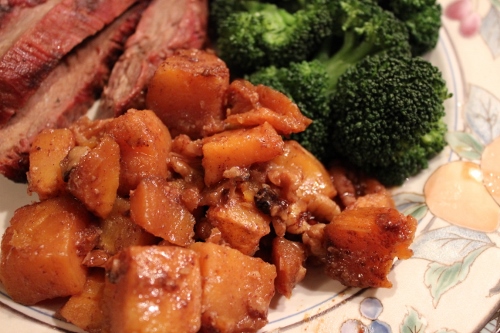 Image: Coutesy of Jodee Weiland
I decided to make this recipe several years back during the holidays, and now we make it whenever we can get butternut squash. It's basically the same recipe we used on the baked sweet potatoes, minus the miniature marshmallows for a topping that some people use. I was never a big fan of marshmallows, so I eliminated those long ago. I added chopped walnuts instead, and it turned out great!
Read more at Learn from yesterday, live for today...
More Like This
Recent Posts
by Jodee Weiland
Our bloggers use Tyson® Fresh Chicken for their chicken recipes. Re-create these recipes for a wonderful mealtime at home with your family. Also, enter for a chance to win a gift basket of kitchen goods and gadgets.
Read more
Tyson Fresh Chicken Reviews
With a little help from Tyson Fresh Chicken, bloggers share their favorite chicken recipes for mealtime with the family. Read their posts and enter for a chance to win a kitchen goods gift basket!