Sweet Little Hexagons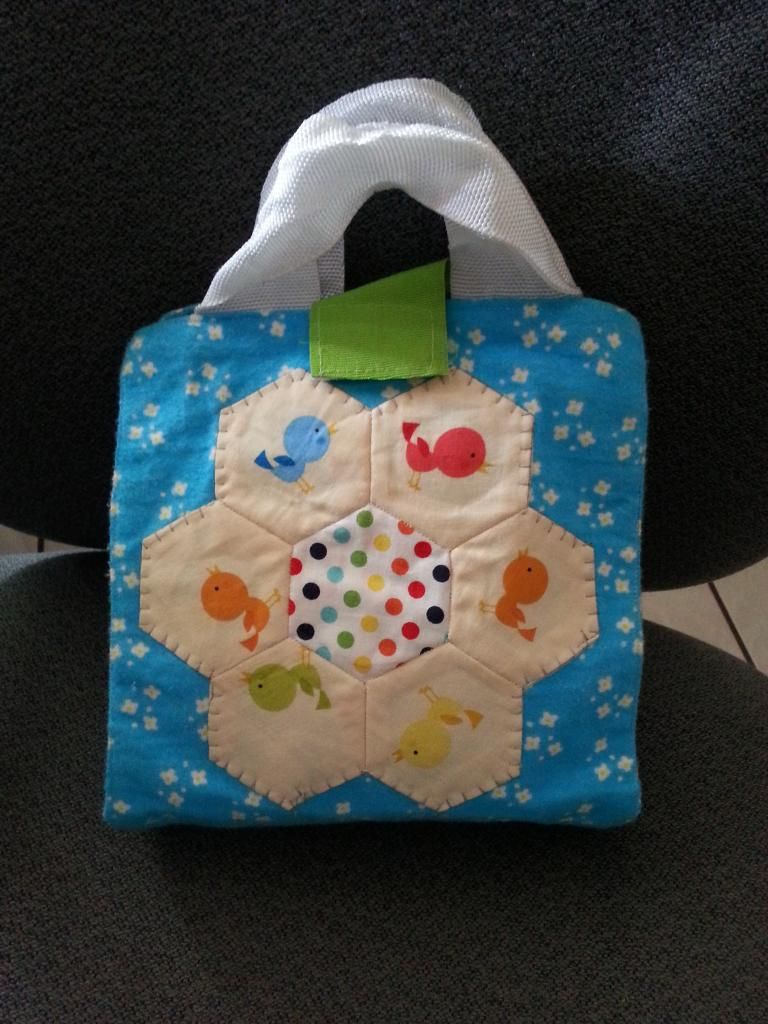 I've got a bit of an obsession with hand work. And with that, has come a deep love for English paper piecing (EPP) and sweet little hexagons. Today, I'm going to share with you a couple of projects I am working on, as well as talk a little bit about how I fell in love with hexies. You see, I am two years into a hexie project, which is the equivalent of marriage in my crafting life.
When I was pregnant with my youngest, I started looking for a big handwork project that I could do while I was nursing. I've spent the last 8 years either pregnant or breastfeeding, and while I cherish my babies sweet, sleepy faces and flushed, chubby cheeks, 8 years is a long time. I'm over watching Netflix until my eyes feel like they are going to pop out of my head. I refuse to sit on my phone (radiation right next to my baby's head all day-no thanks!) and I've given up on trying to hold up a massive book with one hand. Turning pages is no picnic, either. Trust me on this one.
So I started seeing these grandmother's flower garden quilts. When I realized how much actual work goes into them, I was in awe that any of them actually exist. First, you cut a bunch of fabric into small squares (and if you fussy cut this takes a really long time). Next, you have to use a template and wrap the fabric around the template then baste it into place. You do this hundreds of times to create hexagons. Then, you sit and whipstitch hundreds of these tiny things together. Then, you still have to do the regular stuff, sandwhich your quilt, actually quilt it (and many EPP quilts are quilted by hand, not on a machine), and bind it. This is a crazy lot of work.
My crazy self decided to give it a go. First, I made just seven hexagons and made one flower to try it out. I didn't hate it, and I really loved my bird fabric which made it kind of fun. I appliqued my first flower onto the bag you see at the top. It's a busy bag for church and I found the tutorial here. We've had it for two years now and only one plastic bag has been ripped out of it, amazingly. It's a great little tote. I do recommend sealing the webbing ends so they don't fray and rip out though.
When my husband saw my hexagon project he said, "Those remind me of Settlers of Catan." This game is a regular at our house, and if you like board games but have never played, go buy it. Today. It is so fun and even the kids that are "too young" to play it get into the game. My wheels got to turning, and I decided I wanted to make a quilt modeled after the board game. A king sized quilt, of course, because I am insane and I like to bite off more than I can chew.
Two years later, I am probably half way through with the Catan quilt. When it is finished, it will be over 1000 hexagons done with a 2.5" template. Here is a picture of one completed "tile" in the game.
See those sweet blue birds? I want to squeal over the cuteness every time I see them. I guess I have a thing for birds. Now, unless you are a hand work aficionado, I'm sure you are wondering if I have lost my mind tackling this project in an era where you can whip up a quilt top in a day by machine.
I've discovered that hand stitching, for me, is therapeutic. When I started making hexagons, I was pregnant and super stressed out over a lot of different things that were going on in my life. Sewing helped clear my mind and help me settle my blood pressure when I felt like my head might explode. After my son was born, I would look at my stacks of completed hexagons and feel so accomplished even though I spent much of my life sitting in a chair with a sleeping or nursing baby on me. The dishes stacked up higher, but so did my hexagons. It felt good. Now, they represent time spent in front of the television that's not wasted because I am producing something at the same time.
Comments
More Like This
Recent Posts
by SunshineyDay
Resolve® Gold In-Wash Stain Remover is so powerful that it removes some stains in just 30 seconds! We asked our bloggers to give the new Resolve® Gold line of products a try and share their best stain removal tips. Check out their blog posts and learn how you can enter to win a $5,000 shopping spree! Plus, weekly prizes valued at $250!
Read more
Recent Comments
on Crafts