Teacher Appreciation Luncheon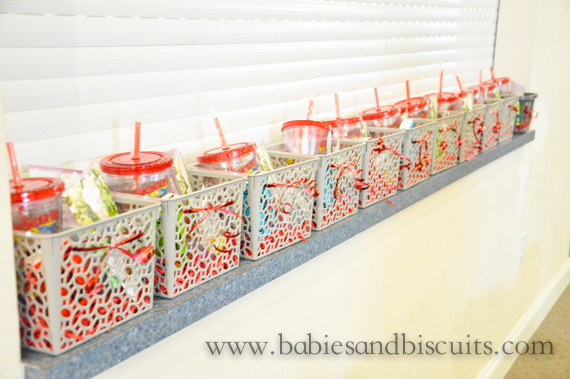 We made gift baskets for each of the teachers as well. I found the coolest drink cups (even though you can't see them very well) at Michael's. They had Wonder Woman on them and they were PERFECT! Paired with girly items from the Target dollar bins, they made a cute little gift for the teachers to take home.
I have to admit, when I was first asked to do this, I kind of PANICKED! What did I know about Teacher Luncheons??????
Well, after it was all said and done, I'm so glad that I had the opportunity to do it and the response from the teachers was worth it.
If you are planning or have been asked to help throw a Teacher's Luncheon, I hope this may have given you some great ideas!
Have you thrown a Teacher Luncheon? If so, what was your theme? I would love to know!
Until next time.......
XOXO,
Esther
More Like This
Recent Posts
by Babies and Biscuits
Our bloggers are great fans of American Idol from way back when the show aired 14 seasons ago! Well just so you know, it just started! Watch American Idol every Wednesday and Thursday 8/7 on Fox.
Read more
Most Popular
on Special Occasion
Recent Comments
on Special Occasion