Texas, Tampons and Tears: Sister Supplies
Featured Member Post
[Editor's Note 7/18/13 10:37 a.m.: Texas Governor Rick Perry signed into law sweeping restrictions on abortion that were being protested at the statehouse earlier this month. --Grace]
The social media reaction to the Texas State Legislature banning state residents from bringing tampons or pads into the General Assembly buildings during a heated debate on abortion last week really got me thinking.
On its face, this is patently absurd – have you ever tried to throw a tampon at anyone? Or a pad? Even drenched in water, they weigh next to nothing – it's like throwing a wet tissue. How much damage can you do? And when you are talking about standing/sitting on a balcony – it's like throwing confetti. From your vagina. I guess.
You could take off your shoe and use it as a more effective projectile. Or throw your gun at someone. Seriously.
Image Credit: tr.robinson via Flickr
Because that's the real reason this meme caught on – tampons and pads are items necessary for good health for women between, say, 14 and 45, give or take. Health care. They are not about stopping the flow of Satan, or keeping our panties clean, or being pure and holy. They are a crucial part of current reproductive health care for girls and women who menstruate – a function of our physical health.
(Yes, I know there are other methods like the cup, but for my purpose, I'm focusing on these two items.)
I know all about menstrual shame, believe me. I remember that dreaded "talk" in fifth grade, getting my period and not wanting to tell anyone and dealing with the odious discomfort of bulky 1980s pads for years. Uggghhh. NO ONE talked about it. I internalized that shame from age 11 to 23, when I was confronted with the fact that I needed surgery on my uterus to address endometriosis. Suddenly, I was talking about it – trying to understand, feeling very angry that I had lost approximately one day per month for 12 years to the pain – and no one had ever told me it might be something medical that could be treated.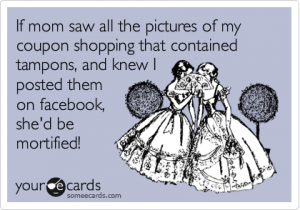 No, it was simply my burden as a woman. Ironically, my then boy-friend was from Texas and he was absolutely terrified of going to the store to buy a box of supplies for me. I thought it was funny. Until I was recovering from surgery and he still wouldn't shop for them. The irony was not lost on me. The boyfriend soon was.
Still, I'm not about to lob blood-soaked tampons at anyone, because ewww – I don't hurl body fluids, as a matter of ethics and hygiene. And tampons aren't cheap.
And that's the other matter – the war on women involving access to abortion, reproductive services, and even tampons/pads, is extra hard for women and girls living in poverty. And THAT is what really angers me. The women in the wealthy, privileged families of these legislators around the nation will not really suffer, because they will continue to have access to the health care money can buy. Well, they will suffer (sigh), but not in a way that penetrates the consciousness of thick-skulled patriarchal control freaks of any gender.
Soon after my big menstrual revelation, I moved to Todd County, Kentucky. There was no red light in the entire town. And we all dined at the Dairy Queen. It was so incredibly poor – I was shocked out of my naive 20something mind. But one of the most shocking (and humbling) moments of my life was when the women volunteering at the thrift store that I ran asked me for rags. I assumed that they used them as I did: cleaning, messes, etc. But they kept taking them and taking them. I was perplexed, so they assumed I was angry. Finally, one of the women (her name was Shirley) took pity on me and explained.
The women used the rags for menstrual garments. So they buried or burned them each month and needed more. (In really bad months, they used the rags as toilet paper. Not making that up at all.)
Tampons and pads are not covered by food stamps. Not covered by health insurance. They certainly aren't cheap – one woman can easily spend $10 in a month on this item. So the women made do (I assume they still do) because they weren't going to take $10 out of the food budget or the money for gas to get to work or things for the kids. They didn't have $10 – so they used rags.
Related Posts
More Like This
We asked our bloggers to share their tips for staying confident even when having a cold sore. Check out their posts and learn how you could win a $100!
Read more
Most Popular
on News & Politics
Recent Comments
on News & Politics