Thanksgiving Meatless Loaf from Fat Free Vegan Kitchen
BlogHer Original Post
Since it's Thanksgiving this week I thought it would be fun to share a Meatless Monday recipe that could work as a meatless Thanksgiving entree as well. And when I read the list of ingredients for this Meatless Loaf from Fat Free Vegan Kitchen, it sounds like a flavorful Who's Who of the vegetable world! Susan describes this as having "Thanksgiving flavors so concentrated that you can just skip the gravy and dressing," which is just how I think a meatless Thanksgiving option should taste!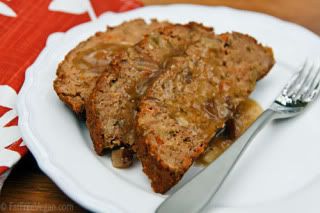 Photo of Thanksgiving Meatless Loaf from Fat Free Vegan Kitchen
Get the recipe for Thanksgiving Meatless Loaf from Fat Free Vegan Kitchen.
Have you made something interesting for Meatless Monday this week or do you have a good meatless option for Thanksgiving? If so please share the recipe link or your recipe in the comments. You can find more Meatless Monday recipes by clicking the tag Meatless Mondays.
BlogHer Contributing Editor Kalyn Denny also blogs at Kalyn's Kitchen, where she specializes in low-glycemic recipes using fresh ingredients. Kalyn probably won't ever be a vegetarian, but she does love to make meatless dishes such as Twice-Baked Spaghetti Squash with Pesto and Parmesan.
Recent Posts
by Kalyn Denny
Our bloggers include LISTERINE Antiseptic in their regular oral health routine. See why and get a chance to win $100.
Read more