Things I've Stepped on Since I've Had Kids
Huh.
That was a new one.
I looked down at my feet and the object upon which I'd just stepped. It was a plastic cup. And not a drinking cup, but a protective cup from my ten-year-old's baseball shorts. Now how did THAT get on the living room floor?
It could be the strangest thing I'd ever stepped on. But then again, since I've had kids, I've stepped on things I didn't even know existed before! Here's a quick list of things I've stepped on:
Protective Cup
Sippy cup
Bouncy balls
Legos
Barbies
Bakugans
Beyblades
Hot Wheels cars
Magic Treehouse book
My Little Ponies
Bowling pin
Assorted action figures
Tiara
Comb
Rocks
Sticks
Pretzels
Cheerios
Goldfish
DSi cartridges
An old iPhone
Hockey puck
Hockey stick
Pez dispenser
Money
Now what about you? What things have your kids left on the floor that you've stepped on?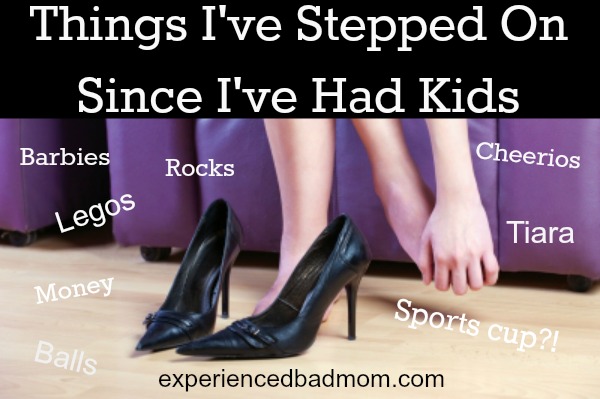 Image courtesy of marin/Freedigitalphotos.net.
Related Posts
More Like This
Recent Posts
by Experienced Bad Mom
Hearing your baby laugh is the most amazing sound. Discover why baby laughter is so important, your baby's own Baby Laugh Index™, and much more at www.babylaughindex.com.BlogHer and Bright Starts™ asked 10 bloggers to share what kind of laugh their kids have and to try out one of these fun toys: the Jungle Fun Ball Climber™, the Hide 'n Spin Monkey™, or the 3-in-1 Step 'n Ride Lion™ . Check out their posts and learn how you could win one too!
Read more