Things a Monkey Could Cook: Boston Cream Pie
Now the first thing that needs elucidation here is that although this traditional treat is called a pie, it is in fact a cake, and I sure wish I could tell you why, but I did find out that the French chef who probably dreamed it up in the kitchen of the Parker House Hotel, Boston, Massachusetts, USA, Planet Earth ended up drawing a bigger paycheck than the president of Harvard University.
Not that I'm surprised, since I myself love this monument to cream and chocolate so much that it was the second thing I learned to make all by my little self—pushed over the edge by my almost unnatural craving for chocolate plus anything.
Well, maybe not anything….
And although you never know, I do know that if there's anything creamy attached to especially dark chocolate I'm probably a goner, and this recipe's got it all—surrounded by tasty layers of golden cake that go heavy on the vanilla….
So if this all sounds swell, I beg beginners not to be intimidated by the idea of desserts that involve things like layering, but to rather remember that I pulled it off way back then when I was still snapping spatulas in two by getting them caught in my mother's long-suffering mixer.
Another thing about BCP: contrary to your more typical layering scenario, in this case one bakes a small cake in just one 9 x 1½ inch standard layer pan; while I shall soon attempt to explain my mom's neat trick for splitting this layer into two without needing to own the kind of extraordinarily long knife wielded by professionals.
Then, once the cake is split, it's filled with the same pastry cream that I put inside a cream puff, which one makes while the cake is baking. Occasionally I put whipped cream in there instead, just for a change; but that's definitely not what's expected from good old-fashioned BCP.
Then you glaze it with a barely liquefied chocolate frosting to literally put the icing on the cake.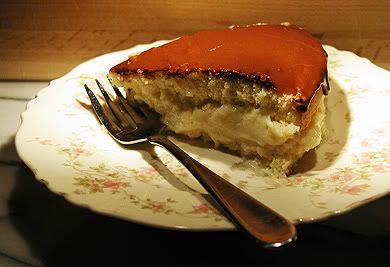 Basic Vanilla Cake
1/3 cup butter, softened
¾ cup granulated sugar
1 egg
1 ½ teaspoons vanilla
1 ¼ cups all-purpose flour
1 ½ teaspoons baking powder
½ teaspoon salt
5/8 cup milk
Cut the butter into small pieces and let it soften up in your mixer bowl while you prepare the pan and measure everything out.
Grease your pan by using a pastry brush or paper towel to spread a thin layer of butter or shortening over the entire baking surface. Then sprinkle it with a little bit of flour, shake it around until the surface is coated, and then tap it upside-down over the sink to remove excess. This process is made even better by additionally covering the bottom with greased and floured parchment paper, for even browning and ease of removal.
Add the sugar, egg, and vanilla to the butter in your mixer bowl.
Sift together the flour, baking powder, and salt into a separate bowl and set aside; and if you don't own a sifter you can just mix things well by hand, but serious bakers should invest in one for superlative ingredient distribution and its subsequent superlative results. If your baked goods don't seem as pretty as the pictures and have little brown spots all over them, it's probably because the leavening agent's not properly incorporated.
Measure out the milk and set aside.
Preheat the oven to 350 degrees.
Mix the butter, sugar, egg, and vanilla until well blended on low speed. Scrape the bottom and sides of the bowl, and then cream on medium-high until all is light and fluffy.
Add about half the flour mixture on low speed, then about half the milk, then the rest of the flour, followed by the rest of the milk. Once all is blended, beat on medium-high for about 3 minutes, and timing's important here. It's all about putting just the right amount of air in there, so watch your watch. Back in the mid-1800's when this tasty treat was invented, cooks still routinely relied on whisks and sheer athletic ability to lighten their cakes without the benefit of modern baking powder technology, which may be why a great hotel chef could be such a rare commoditiy as to be worth his weight in gold.
Pour the batter into your prepared pan, make sure it's nice and level, and then bake it in the center of the oven for approximately 30 minutes. When it's done it'll be golden brown and will feel firm to the fingertip in the center, where an inserted toothpick should come out clean.
Cool—still in the pan—for 5 minutes on a rack, and then place another rack on top of the pan, grab on tight with potholders or kitchen towels, and flip everything over so that your cake is now resting on top of rack #2.
Remove the pan and re-flip—so that your cake is now right-side-up—and then let it cool completely before moving on.
Of course, during all this baking and cooling, one should also make and cool the following Pastry Cream. On the other hand, those wishing to substitute Whipped Cream should wait until their cake's cooled off entirely before proceeding, while letting the beaters and mixer bowl chill in anticipation.
Pastry Cream/Custard/Pudding/Filling
Call it what you like, this yummy stuff is what you get when white sugar mixed with flour or cornstarch and a pinch of salt meets milk or cream over medium heat until it bubbles and binds. Then egg yolks are added for color, richness, and shine, along with various flavorings—usually starting with vanilla and, in my case of course, frequently continuing on to chocolate—but not this time.
No, that thrill comes later….
½ cup sugar
2 tablespoons cornstarch
a pinch of salt
2 cups milk
2 egg yolks, slightly beaten
1 tablespoon vanilla
Combine the sugar, cornstarch, and salt in a roomy saucepan.
Gradually whisk in the milk and place over medium heat.
Bring your milk mixture to a slow boil, while constantly whisking and scraping—with a heatproof spatula—for about 3 minutes, until it thickens into something a bit more substantial that will eventually just barely hold its shape after it's cooled all the way down.
Take it off the heat and pour in the egg yolks in a slow, steady stream while whisking constantly.
Return it to the burner and boil, stir, and scrape for another minute.
Remove your custard from the stovetop, stir in the vanilla, and then pour it into a bowl to cool. As soon as it's lukewarm, refrigeration can speed things up, but don't put it inside your cake until it's truly cool and all set up.
BCP Construction
Once both your cake and pastry cream have cooled all the way down, start melting the chocolate and put some water on to boil for the glaze.
Meanwhile, place your cake on a serving plate and then split it into two layers; and to do this, most people find the longest knife they own—preferably serrated—and carefully slice right through. Then you gently lift the top of it over to another plate temporarily.
Or you could instead employ the aforementioned neat trick my mother taught me: you get a nice long piece of sewing thread, wind it around the ends of your index fingers, carefully align it with the side of your cake, and then use a slight sawing motion to break through the crust—after which you'll be able to easily pull the thread right through to neatly split your confection in half!
And if your first attempt looks depressingly uneven, rest assured that it really won't matter on any level except the aesthetic, because the cream that's going inside can soon become a great leveler. Plus, even if you dropped it and it's completely fallen apart, you could still spoon the cream on top of that poor mangled cake, drizzle it with the icing, and I assure you that most people will still be more than willing to take it off your hands.
Next of course you cover the bottom layer with the pastry cream, replace the top layer, and drizzle on the following glaze.
Refrigerate if not serving immediately, and although I imagine this was originally a room-temperature dessert, most have come to prefer it slightly chilled. You'll just have to be the judge, while I'm someone who actually prefers to let it spend the night in the fridge.
Chocolate Glaze
1 ounce = 1 square semi-sweet chocolate
1 teaspoon butter
¾ teaspoon vanilla
½ cup confectioner's sugar
3 tablespoons very hot water
Melt your chocolate and butter in a small saucepan over very low heat, while bringing the water to the boiling point.
Add the vanilla and half of the sugar slowly, and then half of the water until nice and smooth.
Then add the rest of the sugar, followed by the rest of the water—perhaps a little more or less than 3 tablespoons as needed to achieve your desired consistency; and what you're aiming for here is not a frosting you can spread, so much as something that will actually flow as you pour it over the center of the cake—ideally having a consistency that makes it reach the edge and no further. This refinement of technique is not to be expected on one's first try of course; and if it drips a bit down the sides, or you have to spread it out a little with a metal spatula, tasty perfection will still be achieved.
While those wishing to download my cookbook for free might care to click here, where if you're also hungry for entertainment, you might like to sample some of my fiction as well.
Enjoy!
Trending Now
More Like This
Recent Posts
by Jean Stites
Mom has a lot to check off her list this Summer, and Kellogg's cereal can help her get it done. How will you make the most of your Summer? Check out our blog posts as we share with you inspirational ideas for celebrating the moments of magic that will happen during this activity-filled time of year! PLUS enter for a chance to win as $100 Walmart gift card!
Read more
Kelloggs Walmart Shoppers
Bloggers show us how they use cereal to create fun, summer memories. Read their posts and enter for a chance to win $100!