A Month of Side Dishes: Things a Monkey Could Cook -- Mini Fluffy-whips and Steamed Veggies
December is BlogHer's Month of Side Dishes, and we want you to share your favorite side! Click here to see how to play along. And check out all the sides we're craving in the Month of Side Dishes series.
***************************
Well now, pondering side dishes often makes me think of Marie Antoinette of course, due to her noble efforts to promote the potato to her starving people as something more than cattle chow by wearing potato flowers in her hair. Then, the next thing you know, Thomas Jefferson comes home from his ambassadorship with the recipe for French Fries stuffed into the luggage next to the first piano in North America, and so the great American love affair with the potato had begun.
Go figure.
Now this particular dish is pretty much just your basic twice-baked potato, which we've always called fluffy-whips around our house—the difference being that one day I found these really great new potatoes at the farmer's market, having already promised my daughter fluffy-whips, and soon formed the opinion that the mini versions are even better than the big guys.
The mother of invention….
So here they are: pictured with some simply steamed broccoli in front of your standard meat loaf —all of it enhanced, I feel, to the maximum by some of my family's traditional chili sauce.
Also, you might be interested to know that I occasionally bake extra potatoes that don't become part of the recipe--deliberate leftovers intended to be diced and fried in a little butter to go with eggs and toast at breakfast—another tradition that was apparently started back in the days of horse-drawn sleighs, where the hostess would provide her departing guests with nice, hot baked potatoes, which would then be clutched within their mittens to keep their hands nice and warm during the frosty ride home.
Jingle bells, jingle bells, jingle all the way….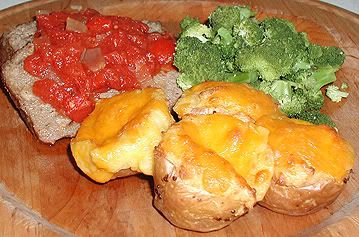 Mini Fluffy-whips
12 small white or red potatoes
½ cup milk
4 tablespoons butter
½ teaspoon salt
2 to 3 cups grated cheddar cheese
Now the type of cheddar depends upon your personal taste, while you can of course use any cheese you desire—Swiss, for example—but I feel something with a fairly strong flavor works best in this recipe, and I usually go for the most common choice as a flavor preference, which in my neighborhood often also has the added advantage of being the most economical.
Preheat the oven to 350 degrees.
Wash the potatoes, cut out any questionable-looking spots, and pierce them a few times with a sharp fork to allow steam to escape because once in a while a baking potato with its skin entirely intact will actually explode.
Bake them on a rack inside a pan or baking sheet for anywhere from 30 minutes to 1 hour until fork-tender, depending upon how large they are; and so of course the main thing here is to purchase spuds of uniform size.
Remove them from the oven and let them cool down slightly while you assemble everything else you need to proceed.
Slice your still-hot spuds in half length-wise, and scoop the insides out of their skins with a well-rounded spoon into a large mixer bowl, taking care to leave the skins intact. You'll need an electric mixer to achieve that fluffy-whip lightness we're after here, unless you're fairly athletic; while if you choose to whip potatoes with a whisk with any frequency, you'll also simultaneously whip yourself into shape.
Add the butter, milk, and salt.
Whip those taters on medium speed until all is very smooth and light. Scoop this mixture back into the skins, place them back on the rack, and carefully top with pinches of grated cheese.
Return them to the oven for another 20 to 30 minutes until the cheese is melted and beginning to brown; and at this point, if necessary, they can be held in a slow oven for quite some time.
Steamed Veggies
Now, if you love veggies, but don't own a steamer basket, I advise you to go get one right now. Don't even wait until tomorrow.
I don't care what time it is.
This steamer basket I command you to purchase is a collapsible metal platform full of holes that stands on little legs and conforms to the size of your saucepan. After it's in there you just add water up to the bottom of the platform and put whatever cut-up vegetables you've got on top. Alternatively, you can always boil them in an inch of water, but I feel the results are not nearly as tasty or healthy, since a lot of the flavor and nutrients end up in the water.
Exactly how you cut them up depends of course not only upon what sort of produce you're working with, but also upon what you intend to do with it next; and so instruction will be found in recipes, but the main thing is to cut your veggies into pieces of uniform thickness.
For instance, for the broccoli you see pictured above, one would remove the tough lower stems, split the secondary stems, and cut the larger flowerets in half.
Place your veggie into a steamer basket inside a roomy saucepan, with water added almost up to the bottom of the steamer.
Cover, bring the water to a boil over medium-high heat, and steam until it's bright in color and tests tender under your fork—having reached that glorious peak of perfection which stands between crunch and mush, which for something like broccoli takes about 15 minutes.
Salt and pepper to taste, and at this point one could add all sorts of other enhancements, depending upon the rest of the menu, although when placing any sort of steamed veggie on a plate with a powerful sauce or gravy, I usually add nothing at all.
Serve immediately, or perhaps sooner, because this is also a prime example of a situation where timing truly is everything. If a crop circle forms in the yard after the steaming has started, your delicate dish will almost certainly be ruined if you forget about it while running outside to take a look.
And so, although your relatively heavy main dishes will probably be able to wait until your guests finally make it over the river and through the woods, don't start steaming your light and balancing veggie until they've fully divested themselves of all remnants of the white and drifting snow.
While those wishing to download my cookbook for free might care to click here, where if you're also hungry for entertainment, you might like to sample some of my fiction as well.
Enjoy!
We want you to share your favorite side! Click here to see how to play along. And check out all the sides we're craving in the Month of Side Dishes series.
Trending Now
Recent Posts
by Jean Stites
Our bloggers tried out Panasonic's HomeTeam App. An online service that connects loved ones across generations and distance. Read more and see how they shared activities and built lasting memories. PLUS get a chance to win a $100.
Read more