Things a Monkey Could Cook: Oven-fried Chicken, Biscuits, Corn, and Slaw
Well the corn was as high as an elephant's eye at this week's farmer's market, and so it's time to crank out this culinary classic. Forget the buckets and go for the gold, because the only thing that's even remotely tough about this meal is the biscuits and gravy thing, and I just know you can learn to do that….
Sequence of Events
Make slaw and refrigerate.
Start chicken baking.
Prepare corn for boiling and biscuits for baking.
Chicken is done! Cover with foil.
Raise oven temperature for biscuits and bring water for corn to a boil.
Biscuits go into oven. Corn goes into water. Meanwhile, make gravy.
Call people—serving as soon as the biscuits are done.
Bask in glow….
Now, you can make slaw well in advance—which is frequently favored by the experienced, since the flavors have more time to develop and permeate those relatively tough veggies; while at dinnertime—should things be delayed—the chicken can stay warm under the foil for some time. Just don't start the final biscuit/corn/gravy sequence until everyone's assembled.
Yes, when it comes to meal coordination, timing really is everything; while in terms of preparation times in general, I myself have come to feel that providing an actual number is an exercise in futility since—for me at least—prep time depends upon the layout of one's kitchen, or how fast you are with a knife, or whether you slept funny and have an ache that's slowing you down—not to mention the unpredictable interruptions of family, friends, phones and the occasional, accidental, incredibly big mess….
Beginner tip: always allow yourself plenty of extra time in the kitchen over what some only-trying-to-be-helpful recipe writer estimates, because you're going to have to do a lot of stopping and thinking in the beginning; while if you feel yourself moving too fast, you're probably asking for trouble. Watch out, in particular, for cats and kids underfoot.
While anyone new to biscuit-and-gravy making can find a more detailed discussion of same by visiting my very similar chicken with peaches blog, where poultry and produce lovers may also discover another pretty interesting thing to do with sweet summer's fantalicious fruits.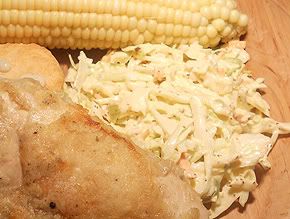 Coleslaw
3 cups thinly shredded cabbage
½ cup grated carrot
2 tablespoons minced onion
¼ cup sour cream
2 tablespoons mayonnaise
1½ tablespoons cider vinegar
1 teaspoon sugar
¼ teaspoon salt
1 teaspoon prepared mustard
¼ teaspoon celery seed
¼ teaspoon black pepper
Mix everything together well and refrigerate. Plus, if you're nearby as it develops, stir it up again from time to time for maximum flavor blending; while the key to success here is to shred that cabbage nice and thin….
Oven-fried Chicken
about 3 pounds split chicken breasts = 4 pieces
up to ¼ cup shortening—optional, depending upon your pan
1 cup flour
1 teaspoon salt
1 teaspoon black pepper
Preheat the oven to 375 degrees.
Coat a 13" x 9" x 2" pan well with the shortening; and at this point, if your pan's truly non-stick or lined with foil, I still recommend brushing just the bottom with a light layer of shortening in order to give your finished dish a hint of that old-fashioned fried-chicken flavor most are likely to have in mind.
Plus, if for some reason you decide to skip the traditional scenario and use basically skinless bird, and then you also skip the shortening, it's all going to be unsatisfactorily dry if you don't cover the pan with foil during the baking—which means there won't really be any oven-frying going on, while you won't be generating any drippings for gravy-making either.
Put the flour, salt, and pepper into a plastic bag. Close it tightly and shake it to mix things together.
Wash the chicken pieces well under cold water and add them to the bag one at a time—shaking to coat them with the flour mixture. Then place them skin side down in your pan—saving the extra flour to thicken and season the gravy.
Bake uncovered, in the center of the oven—turning once, after about 30 minutes—for about 50 minutes altogether, until it's nice and brown—a matter of opinion, of course, which also depends upon the size of your chicken pieces in terms of when it's truly done.
Remove your pan from the oven; and then carefully tip it just a bit, so that the drippings run down into one corner. Spoon out ¼ cup of them into the saucepan you intend to use for gravy-making; while when coordinating this particular meal, don't forget to now raise the oven temperature to the 450 degrees required for those awaiting biscuits.
Cover the chicken with foil to keep it warm as you move on to the biscuits/corn/gravy wrap-up.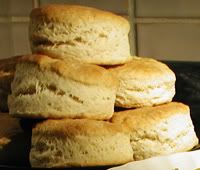 Biscuits
2 cups all-purpose flour
¾ teaspoon salt
2 teaspoons sugar
1 tablespoon baking powder
½ cup shortening
2/3 cup milk
Preheat oven to 450 degrees; which of course in this case means remembering to raise the temperature when the chicken comes out, and then one waits a few minutes before proceeding.
Sift together the flour, salt, sugar, and baking powder.
Cut in the shortening, make a well in the center of the mixture, and pour in the milk all at once—combining everything as quickly as possible.
Turn the dough out onto a floured surface and knead lightly for about 30 seconds.
Roll it out to about ½ inch thick.
Cut 2-inch circles and place them on an ungreased baking sheet.
Pop them into the oven for about 10 minutes until golden brown.
Meanwhile, of course, you boil corn and make gravy.
Sweet Corn
You know, I think a monkey really could whip up a perfect pile of sweet corn, since all you do is:
Husk and wash as many ears as you crave, bring enough water to cover them to a boil in your largest kettle, drop that corn into it, cover and return it to a boil, and then cook your veggie for about 5 minutes.
Be sure to bring your water to a boil before you put the biscuits into the oven, since they require the same amount of cooking time as the corn. The chicken—and even the gravy—can stay on hold for a while, but once you start the biscuits and corn, the countdown is on....
Also, some people instead return everything to a boil after putting the corn in and then turn off the heat—letting it simply sit there in the water for about 10 minutes, while cooking time really varies according to the type and age of your vegetable, as well as personal taste. However, I wouldn't leave it in there for more than 15 minutes.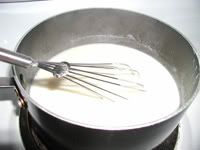 Gravy
2 cups milk
¼ cup seasoned flour, reserved from coating the chicken
¼ cup drippings, removed from baking pan
I use 2% milk, but really any kind will do; and if I don't have quite enough, I just use water for the rest of the liquid; while those having a problem with milk can instead make this gravy with chicken broth or entirely with water, but it won't be the especially creamy gravy you may picture poured over chicken and biscuits.
Over medium-low heat, mix the flour into your reserved drippings in a roomy saucepan.
Gradually whisk in the milk, and bring your gravy to a slow boil for about 3 minutes—stirring constantly until thickened.
Keep it warm—stirring occasionally—over low heat while the biscuits finish up, and then make sure that it's the last thing you put on the table.
While those wishing to download my cookbook for free might care to click here, where if you're also hungry for entertainment, you might like to sample some of my fiction as well.
Enjoy!
ADD A COMMENT
Recent Posts
by Jean Stites
Our bloggers chose Lucky Brand for its fit, comfort and unique details and finishes. Read more on the latest styles plus get a chance to win $100.
Read more
Embassy Suites by Hilton is a brand within the Hilton Worldwide portfolio that promises to provide what really matters most to the savvy guest. Our bloggers took a family getaway to experience Embassy Suites by Hilton. See everything they had to say and comment for your chance to win $100!
Read more