Things a Monkey Could Cook: Spinach Manicotti and Stuffed Mushrooms
Well now that it's truly spring, I advise you to soak in the fresh air, sunshine, and overall invigoration to be found at your local farmer's market, where you're also likely to find some really, really, really nice veggies this time of year.
For instance—having been raised on the fringes of the farming tradition—I've learned to grow my own occasional patio pot of acceptable spinach, and yet could only stand in awe of the specimens that the season began to supply to me from the green-growing wizards who truck in every Saturday morning to the corner of El Cerrito Plaza, CA, USA, Planet Earth….
Then—several salads later—I finally took the trouble to make Spinach Manicotti—popping the simple Stuffed Mushrooms you'll also find below right into the oven alongside it for added enhancement, while baking up a nice loaf of French bread for balance, and you should too. However—for those seeking quick and easy—just pick up a loaf on the way home and feel free to forgo any additions, because spinach manicotti can stand alone.
Whip it up, throw it in the oven, and go do your thing while the old homestead fills with that certain special aroma that only comes from taking the trouble….
Plus, in terms of party planning, it's one of those things like lasagna or macaroni and cheese that can wait in the fridge after assembly—or even be warmed back up—while beginners are reminded to beware of inherited, possibly treasured old cookware that may not survive quick changes in temperature.
Also—in an effort to be of service to all—I've included recipes for both your basic meat sauce and your basic marinara sauce, since—at least when it comes to the success of a manicotti recipe—it matters not which path you choose….
Not only that, but if someone you love has a problem with spinach, you can easily make them a couple of plain old cheese manicotti before you mix in the sophistication. Flag them with a toothpick or something after all is assembled—should you suspect you won't be able to tell them apart when your dish comes out of the oven.
And with that in mind: quantities here feed four most generously.
Spinach Manicotti
12 manicotti = 8 ounces = one small box
4 cups tomato sauce of choice
3 cups fresh spinach
15 oz. = 1 average groceteria container of ricotta cheese
½ pound = approximately 2 cups shredded mozzarella cheese
¼ pound = approximately 1 cup shredded parmesan cheese
2 eggs
2 teaspoons dried oregano
½ teaspoon. salt
½ teaspoon black pepper
Start your sauce of choice simmering away on the stove.
Blanch spinach 30 seconds. Drain. Roll in paper towels to remove excess moisture. Chop.
And for those of you new to blanching: the idea is to briefly expose something that's usually destined to become an ingredient in a larger recipe to boiling hot water, just long enough to soften its texture. In this case, I recommend placing your freshly washed greenery into nice big bowl; after which you pour in boiling water to cover, wait until the color brightens, and then drain it into a colander.
Mix together the spinach, cheeses, eggs, and seasonings—using only ½ cup of the parmesan.
Put 8 cups of water into a kettle and bring it to a rolling boil over medium-high heat; and although this is a fairly standard direction for pasta, if you don't have a pot that big, use the biggest one you have—filled about ¾ full—and simply do very few at a time.
Boil the manicotti tubes until just tender—only about 6 minutes, because it will of course soon be finishing up in the oven; and it's still usually wise to cook only a few at a time—no matter how big your kettle is—to avoid crowding the pot and help maintain the boil.
Drain that pasta in a colander and let it cool—spread out on non-stick surface if possible, for easier handling.
Layer about 1 cup of your chosen sauce into the bottom of a 9 x 13 inch baking pan; and unless your utensil's truly non-stick, I'd advise lining it with aluminum foil.
Stuff the manicotti with the spinach-cheese mixture and lay them oh-so-attractively out in your sauced baking pan; and although one can theoretically stuff them using a spoon, I confess that I usually end up doing most of it by hand.
Pour over the remaining sauce to cover those tubes and then sprinkle all with the other ½ cup of parmesan.
Preheat the oven to 350 degrees.
Cover your assembled dish with foil and bake it for 30 minutes. Then, remove the foil and bake for about another 10 minutes—until bubbly and brown.
And at this point, should something like a toddler meltdown seem imminent, one can usually keep this durable delicacy on hold in a slow oven for as long as it takes….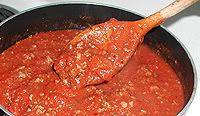 Meat Sauce
½ lb. burger
4 cloves garlic minced
4 cups = 2 large cans = 8 cups fresh, crushed tomatoes
½ teaspoon salt
2 teaspoons crushed red pepper
2 teaspoons dried basil = 2 tablespoons fresh, chopped
2 teaspoons dried oregano = 2 tablespoons fresh, chopped
Brown the burger over medium heat—taking care to completely break up any and all clumps. When it just begins to turn color, throw in the garlic.
Once the meat's completely cooked, add the rest of the ingredients, bring to a bubble, lower the heat, and simmer—uncovered and stirring frequently—for about 30 minutes.
Marinara Sauce
2 tablespoons olive oil
2 cloves minced garlic
4 cups = 2 large cans = 8 cups fresh, crushed tomatoes
½ teaspoon salt
2 teaspoons crushed red pepper
2 teaspoons dried basil = 2 tablespoons fresh, chopped
2 teaspoons dried oregano = 2 tablespoons fresh, chopped
Coat the bottom of a saucepan with the oil and put it over medium heat. Add the garlic and stir it around until it sizzles, but don't let it brown.
Add the tomatoes to the pot with the salt, pepper, basil, and oregano. Cover and cook until the mixture begins to bubble; and then simmer your sauce uncovered over low heat for about 30 minutes—stirring more frequently as it begins to thicken.
And around here we also use this stuff for dunking things like chicken nuggets, pizza rolls, or perhaps these very following stuffed mushrooms when they make their appearance as appetizers.
Stuffed Mushrooms
1 pound mushrooms
1 small sweet or red onion
4 tablespoons butter
3 cups fresh bread crumbs
1 teaspoon dried basil
½ teaspoon salt
½ teaspoon ground black pepper
½ cup grated parmesan cheese
Beginner tip: when discussing bread crumbs, the term fresh really means not dry or toasted; since they're actually made by crumbling up day-old leftover bread—either using a food processor, or by hand with the patience of Job—and should be made from a loaf whose flavor will not conflict with the rest of your meal. For instance, in this case pumpernickel would definitely be pushing the culinary envelope.
Preheat the oven to 350 degrees.
Wash and dry the mushrooms. Remove the tough ends of the stems and then mince them. Put the caps upside down into a lightly buttered, foil-lined 9 x9 inch baking pan.
Mince the onion very fine.
Melt the butter in a large saucepan over medium-high heat and when it sizzles fry the onion and the minced stems until the onion begins to brown.
Remove from the heat and stir in the bread crumbs, seasonings, and cheese.
Fill the mushrooms caps with this mixture and bake for about 40 minutes until nice and brown.
While those wishing to download my cookbook for free might care to click here, where if you're also hungry for entertainment, you might like to sample some of my fiction as well.
Enjoy!
Comments
More Like This
Recent Posts
by Jean Stites
Lean Cuisine believes that women should be valued for their accomplishments as opposed to their weight/appearance. Lean Cuisine's new brand campaign Feed Your PhenomenalTM reflects its new brand purpose: to feed the greatness in every woman. Check out our bloggers' posts and see how they measure their true worth plus learn how you could win a $100.
Read more