Things a Monkey Could Cook: Sweet Corn Salad
Well in my neighborhood the light has shifted toward autumn and we're about to see the last of the sweet corn at the Farmer's Market, which is the sort of thing that makes me think in terms of spectacular finales, and so I took the trouble to make corn salad.
I put it on a plate next to a chicken sandwich, while it's a simply swell accompaniment to a wide, wide world of things—especially fine for packing into the picnic cooler or adding interest to one's patio party, since in terms of flavor and technique it's very much like slaw, in that it has a mayo-vinegar base and actually improves if allowed some time in the fridge.
While in terms of timing, you can even boil your corn the night before you mix it up—making this tasty side dish a fairly creative use of leftovers as well.
Enjoy!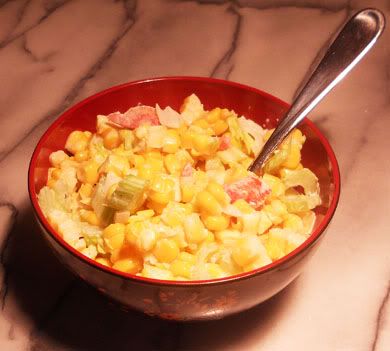 Sweet Corn Salad
2 ears sweet corn, cooked and cooled
¼ cup minced celery
2 tablespoons minced onion
¼ cup minced red pepper
3 tablespoons mayonnaise
1 ½ tablespoons cider vinegar
¼ teaspoon salt
¼ teaspoon black pepper
Slice the corn kernels off the cob and into a roomy bowl.
Mince up the celery, onion, and red pepper and toss 'em in.
Mix in the mayo, vinegar, salt, and black pepper.
Refrigerate for several hours.
Why, I believe a monkey really could cook this....
And if you've enjoyed this little side dish, you might care to download my cookbook for free at the end of this magic blue link, where those hungry for entertainment may wish to sample some fiction as well.
Trending Now
More Like This
Recent Posts
by Jean Stites
Sparkling ICE is a bold flavored sparkling water that truly delivers on taste and contains just the right amount of fizz. Read our bloggers' posts and get more details on how you can enter the Flavor Face Off plus find out more about the delicious flavors that Sparkling ICE has to offer.
Read more
Louisiana Seafood Reviews & Giveaway
With a little help from Louisiana Seafood, bloggers share their favorite Louisiana Seafood recipes. Read their posts and enter for a chance to win $100!