Time for Spring Planting #2 of 5
Planning a Food Garden
Post #2 of a series For Post 1 click here Post 3 click here
Planning food growing spaces is lots of fun, once you get the hang of it. Looking at seed catalogs and dreaming about what to plant and where take up my "extracurricular" thoughts providing relaxation from December to February. I just love sitting down with graph paper and sketching out the gardens. Each year we try to move the types of plants around so none are planted where they were before. This hopefully prevents contamination from any diseases that might be in the soil and prevents continual depletion of soil minerals by the same plants.
Optimizing time and garden spaces takes many things into account.
I keep six honest serving-men
(They taught me all I knew);
Their names are What and Why and When
And How and Where and Who.
Rudyard Kipling, "Just So Stories" 1902
I now approach planning gardens with a journalistic mind. Just as every newspaper article's first paragraph should answer six things: who, what, when, where, why and how, "The Five Ws and One H," the planning of growing spaces requires consideration along the same lines. See if you agree with me.
I'll be switching the order of "The Five Ws and One H" a bit, but here, first make a list that describes you and your vegetable gardens, as you are now thinking about them:
1) WHO is going to be working on the garden and who is going to be counting on eating the food it produces?
Important questions because if you are one person trying to produce food for ten AND trying to hold down a full time job, the garden in addition to a job will be too labor intensive. But, picture the difference if, like Capt John Smith in Jamestown, Virginia, 1607, you establish a "No Work, No Eat" policy. Then, all of a sudden you'll be able to enlist nine other pairs of hands to sow, transplant, weed, nurture and harvest. BIG difference.
So, count who's in and who's out right from the get go and make the size of your garden seem realistic. It probably won't be. I think every new gardener gets a surprise as to how much work it takes, but this way you'll be, at least, a little more realistic about the workload than if you don't think about it. And, you'll have a baseline for figuring things out next year. Home gardening is truly a learn as you go proposition. Make sure to start a simple notebook and jot down ideas while they are fresh. That way, next year, you are building on your new found knowledge, you will not be starting from scratch.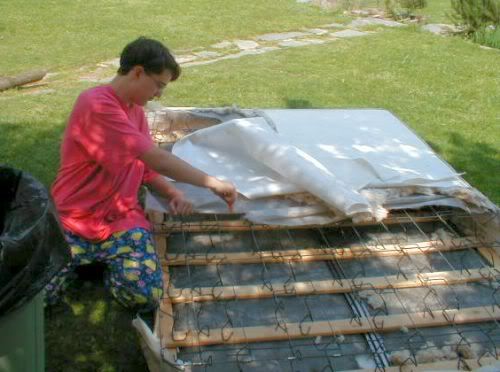 Recycling an old mattress provides a strong bean trellis
from the springs and nice stakes for plant supports if money
for growing aids is a problem. It's easy with some help.
2) WHERE do you live?
And that's important in a BIG way and in a SMALL way. To properly assess our germination and growing strategies, we need to know: A) the zone for your part of the country, which you can find by clicking here ; B) the pH, or acid/base balance of the soil where you live and C) the amount of sunlight on the beds where you intend to plant. The pH you might already know, but if you don't, you can test the pH of your soil by getting helps found here and here.
The zone where you live and the pH of the soil will determine what you can easily grow and when you can plant outside, judging by the date of the average last frost date in the spring. Here is a great web site that offers last frost dates by state.
Now, both of these parameters can be modified depending on your willingness to do more work! If you live at a certain zone and the plants you would like to grow thrive at a warmer zone, you can germinate the seeds inside and then transplant when the weather is correctly temperate. And, if the plants you want to grow need a more acid or more alkaline pH than you find where you live, you can still grow them, you will just have to work to amend the soil to accommodate plants needs. Knowing your soil pH, the sunlight levels, your zone and last frost dates will give you an idea of what to expect and how to pick your seeds. For instance, if you want to grow pineapples, you probably can, depending on where you live, you might have to bring them in the house in pots over the winter and increase their humidity.
Testing the pH of soil.
The third part of "where," the amount of sunlight each area of your yard receives everyday, cannot be easily modified. You have to submit to planting shade loving plants in the shade and those requiring full sun in the sun. If you aren't aware about the light levels in your yard, you will soon notice some spots will be sunny all day long while others will be in shade and others still will be mixed depending on the time of day. Transplanting plants to a light levels they enjoy insures a thriving, food producing dynamo.
You may know the basic light levels of where you want to plant. But, if not and if you love gadgets like I do, try hovering your mouse over the link below to preview a great "soil pH, moisture, temperature and light level tester" that I have just decided to buy and try out myself.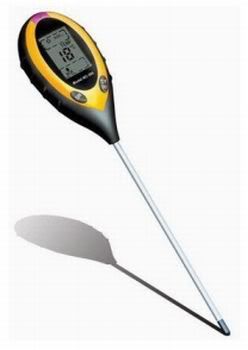 If you are interested in this tester, click on this link:
Digital 4 Way Soil and Light Tester for Plants and Lawn - pH,
moisture, temperature and light level
So, think about your yard, the gardens already present with non-edible ornamentals that can be transferred over to food producing vegetables and about the lawn with non-edible grass that might better be used to feed your family. Get some graph paper and after pacing out the yard, make a drawing of what stays and what goes within its perimeter. Then start planning the shapes and size of your available planting space. It can change a hundred times before spring and that's part of the fun. It's a good exercise, though, to start getting your thoughts down on paper.
3) WHY do you want to plant your gardens?
And, finally for today, are you planning on just eating fresh, nutritious food everyday or would you like to plant an excess, more than you can eat, in order to can food for the winter of 2012-2013? These concepts are not as pressing as the decisions needed above, but are ideas to think about for the rest of winter. Thoughts of quantity and intent will help us plan what seeds to germinate and where to plant them in the days and weeks to come.
It is also important to define goals to assess limitations and recognize that each step of the process adds MORE WORK. For instance, do you know how to safely can food? Or will that be a new skill required to process your harvest? Not to worry. This is all part of the fun as we sit with hot chocolate and pour over seed catalogs with their glorious photos and compelling ideas to dream of our new found vegetable freedoms. Why, looking ahead, the cold of winter will just fly by! ....hopefully.... :)
Coming tomorrow, Sunday, January 15, 2012: Selecting What Seeds to Plant
SunbonnetSmart.com is authored by a little bird who loves to lure unsuspecting BlogHer bloggers to her web site.

COMMENTS
Recent Posts
by SunbonnetSmart.com
We asked our bloggers to craft some recipes from the different Success® Rice flavors and tell us about it. Check out their ideas and you could win a $100 Visa gift card!
Read more
Lean Pockets have no artificial flavors, a good source of protein & have 100% real cheese. Read our bloggers posts where they will tell you their guilt free experiences with Lean Pockets. Plus get a chance to win $100!
Read more