Toasty Pumpkin Chickpea Fritters from Happy Healthy Life
BlogHer Original Post
It's Meatless Mondays, and by the time you read this it will be Halloween morning. I know food bloggers everywhere have been in pumpkin overdrive this month, with everything from Pumpkin Waffles to Pumpkin Soup and even Pumpkin Macaroni and Cheese sounding tasty during this annual season of pumpkin love. Any of those dishes would have been a fine pumpkin recipe candidate for Meatless Monday (and do go check them out), but when I saw Toasty Pumpkin Chickpea Fritters at Happy Healthy Life that just had to be my Meatless Monday pumpkin recipe.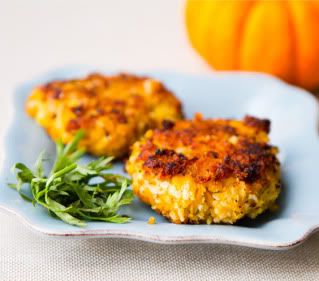 Photo of Toasty Pumpkin Chickpea Fritters
from Happy Healthy Life
Kathy says "These easy, Toasty Pumpkin Chickpea Fritters are tender and moist on the inside - toasty on the outside. " Read more and get the recipe for Toasty Pumpkin Chickpea Fritters from Happy Healthy Life.
Have you made something interesting for Meatless Monday this week? If so please share the recipe link or your recipe in the comments. You can find more Meatless Monday recipes by clicking the tag Meatless Mondays.
BlogHer Contributing Editor Kalyn Denny also blogs at Kalyn's Kitchen, where she specializes in low-glycemic recipes using fresh ingredients. Kalyn probably won't ever be a vegetarian, but she does love to make meatless dishes such as Chickpea Soup with Garlic, Sumac, Olive Oil, and Lemon.
Comments
More Like This
Recent Posts
by Kalyn Denny
Help protect your family from the transmission of harmful bacteria and viruses! Use Lysol's Full Bathroom Range to remove soap scum, lime scale, and everyday dirt and grime to leave your bathroom smelling clean and fresh.
Read more
FoodSaver® Reviews & Giveaways
Save time, money and space with the FoodSaver® Vacuum Sealing System! Air is the enemy of freshness and FoodSaver® vacuum sealers remove and lock out air and moisture. It keeps food fresh up to 5x longer! Read our bloggers' posts and know more about FoodSaver® plus get a chance to win $100!