The Top Technology Products for Moms from the 2010 Consumer Electroncis Show
Lori Cunningham Wellconnectedmom.com:
OK, after five days at the Consumer Electronics show in Las Vegas, I found a number of products that are great for moms, families, and were just plain cool. To read more about the trends for consumer electronics this year, be sure to read my first article on CES entitled Top 6 Tech Product Trends of CES 2010. In this article I list my top 4 favorite products for moms that are very innovative and new.
#1 The Zomm
One of my favorite products from the show was the Zomm, heralded as a wireless leash for your cell phone. The Zomm was created by a mom and the Zomm initials stem from the first initial of each of her children. The Zomm is a keychain you attach to your keys that connects wirelessly, through Bluetooth, to your cell phone. Should you leave your house, a taxi cab, a restaurant, the gym, etc. without your phone, the Zomm will set off an alarm to alert you that you are leaving the phone behind. In addition, the Zomm acts as a two-way microphone and speakerphone – so you no longer have to tear your purse apart looking for your phone to answer it. Simply click on the Zomm button to speak to your caller. Lastly, the Zomm acts as a personal alarm. Press the panic button to immediately dial 911 through your phone if you are in an emergency. Very simple, but pure brilliance. The Zomm will be available for purchase during the second quarter of 2010. Estimated price is $79.99 with no monthly charges.
#2 Lok8u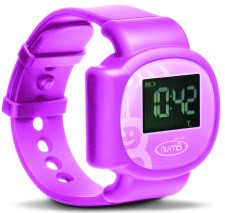 Another of my favorite products from CES 2010 was Lok8u nu-m8 (pronounced LocateU nu-mate). The Nu·m8 is a damage resistant, GPS enabled, colored watch that your child wears on his/her wrist allowing parents to know where their child is at any point in time. It's intention is not to act as a wireless leash, but instead act as safety guard to ensure your child is traceable should s/he become abducted. The Nu·m8 was developed by a dad after frantically searching for his daughter who had disappeared from his sight for over 10 minutes (she had wandered next door to pet some horses). He knew there had to be a way to allow a child some independence while at the same time allowing for a sense of security and peace of mind for the parents. Parents can set up a wireless safe zone, say a border of 500 feet around their school, so that if a child leaves that border, they are automatically alerted via e-mail/text message. In addition, the watch was designed to be tamper resistant. Should the watch be removed, an e-mail/text message will be sent to the parent. Parents can check the location of their child anytime simply by texting 'wru' to Nu·m8 . The GPS locator is accurate within 10 feet. The Nu·m8 is available in pink, blue, and black and recommended for children ages 3-12 years old. Nu·m8 requires a $10 monthly subscription to Lok8u's Pinpoint Services to access the location requests and retails online for $180 at BestBuy.com, RadioShack.com, Toys R Us.com, Sears.com, and at lok8u.com. Other GPS locator products coming out soon include Maxell's KeySmart and XactTrax.
#3 Zeo Personal Sleep Coach
OK, now which moms out there are getting enough sleep at night? It's not just the moms of young children who are lacking sleep. The world is moving fast and there are ever increasing demands on moms throughout the day as their schedules are impacted by demands of home, work, and life. I am one of those moms who does not get enough sleep. I go to bed late (usually working on a new post) and get up early to shuffle my kids off to school. So this product appealed to me. Here's how it works. You go to sleep wearing the comfortable Zeo Headband which tracks your personal sleep patterns. The headband transmits your sleep data to the Zeo Bedside Display which calculates a ZQ score for you. The sleep score tells you how well you actually slept through the night. To keep track of your data, simply take out the memory card from the Zeo Bedside Display and put it in your computer to upload your sleep data into your personalized myZeo.com account. Here you can see a visual representation of your sleep patterns to better understand what's affecting your sleep. You'll see graphs about much much deep and light sleep, REM, and wake time you traveled through during the night. You can also input data such as stress, alcohol and caffeine, and light in the bedroom to better analyze your sleep patterns. For an additional charge, you can receive an e-mail based 7 Step Sleep Fitness Program with personalized recommendations for enhanced sleep. The Zeo Personal Sleep Coach retails for $249 for the system and $349 for lifetime unlimited access to online guided coaching. The Zeo can be purchased online at Amazon.com or directly from Zeo at myzeo.com.
#4 Multi-Touch All-in-One Computer
How would you like to get around the screens of your computer by using your fingers instead of a mouse? Although several new All-in-One Multi Touch Desktops were introduced last year at CES, with the introduction of Windows 7 operating system in October of 2009, the All-in-One Multi Touch Desktops have more power and potential than ever before. At the show, MSI launched a new 21.5 Multi-Touch Screen All-in-One Desktop PC with full HD (1080p) resolution and high-fidelity 5.1 Channel SRS Premium Sound. With it's Intel Core 2 Duo processors, it can easily run HD movies and 3D games. In addition,with its VGA and HDMI input port, it can serve as a TV as well. In my opinion, Multi-Touch computers are best suited for the kitchen. Touch is fun and useful – but adds the most value for faster tasks like reading recipes for cooking, showing the latest family pictures, checking the family calendar, quickly reviewing e-mail or searching for some urgently needed information from the Internet, using Skype to video-conference with a family member or friend, etc. Using the computer for anything longer would require you to sit down and bring out a mouse and keyboard (which by the way I'd keep handy in the kitchen for such times.) The MSI Wind Top AE2220 All-in-One Multi-Touch PC is already available and retails for $749.99 at Amazon.com.
I will showcase more products for the Family and just plain "cool" products from CES in upcoming articles. Some of the products I will write about are truly innovative while others have been around for awhile but are useful and tools moms should know about. Stay tuned for more CES tech fun next week.
Related Posts
Recent Posts
by wellconnectedmom
Nate Berkus brings his celebrated style to LG's premium line of kitchen appliances. See how our bloggers incorporated this style with with just a few simple tweaks. Enter "My Kitchen Needs Nate" contest for a chance to win an ultimate dream kitchen.
Read more
Most Popular
on Technology
Recent Comments
on Technology