Top Ten Countdown to Harry's Birthday: #3 Rock Cakes
Who doesn't love Hagrid and his infamous Rock Cakes? J.K. Rowling made it a point to mention these lovely treats no less than 3 times in the Harry Potter series. Once in the Sorcerer's Stone, another in the Goblet of Fire, and finally in the Half Blood Prince. The Unofficial Harry Potter cookbook says this about these raisin filled desserts: "Rock cakes, standard with tea, look like but don't taste like rocks, unless of course you leave them out for several days, which is probably what Hagrid did. Rock cakes have a short history and seem to have been invented by the Victorians."
Our clip today actually comes from the Half Blood Prince and features 'ol Hagrid himself at the funeral of Aragog, the spider.

My favorite part of this scene, as sad as it is, is when Harry mentions the pincers as another reason why spiders are misunderstood creatures.
Now on to the Rock Cakes...

Rock Cakes
Ingredients:
2 cups all-purpose flour
1/2 cup granulated sugar
1 teaspoon baking powder
1/2 teaspoon cinnamon
1/4 teaspoon salt
1 stick (8 tablespoons) cold butter, cut into chunks
1 large egg
1/3 cup whole milk
1 cup raisins
Directions:
1. Preheat the oven to 350°F and grease and flour a large cookie sheet. Combine the flour, sugar, baking powder, cinnamon, and salt in a large mixing bowl. With your fingertips, rub the butter into the dry ingredients until the mixture reaches the consistency of wet sand.
2. Beat the egg together with the milk and pour it into the flour-butter mixture. Fold it together using a spatula to form a stiff dough. Fold in the raisins. Drop dough by rounded tablespoonfuls 2 inches apart on the prepared cookie sheet.
3. Bake for 25 minutes or until the bottoms are golden, rotating the pan midway through baking.
Makes 12 Rock Cakes
Recipe adapted by The Unofficial Harry Potter cookbook.
FYI: If you truly want them to be like Hagrid's Rock Cakes, you will need to bake them way too long and sit out for days...
"You're a wizard Harry!"~Hagrid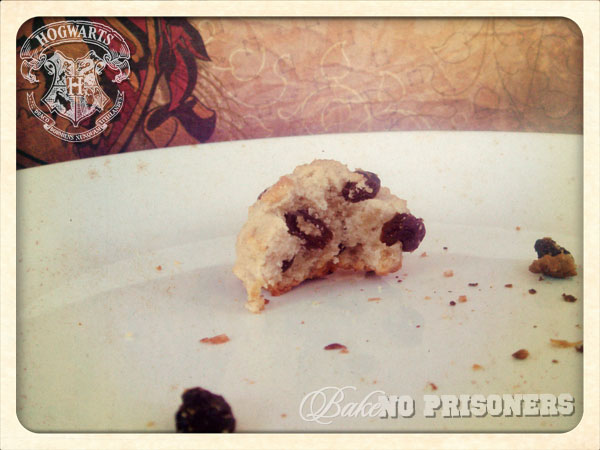 Trending Now
More Like This
Recent Posts
by BakeNoPrisoners
BlogHer and Chinet® asked our bloggers to plan a fun event with friends and family, usingChinet® Cut Crystal® products for inspiration. Check out their blog posts for their best elevated entertainment tips and ideas.
Read more
Recent Comments
on Baking