Transitioning to vegan beauty products: MuLondon Natural Organic Skincare Review and Discount Offer
A few months I asked How Vegan are You? You had much to say about vegan ingredients versus company policies and animal testing. I learned a great deal from the discussion. So much so that at that point I decided that as I ran out of each of my of my non-vegan, non-cruelty-free products I would replace them with more compassionate ones.
One of the products that was just about down to the last drop was my moisturizer. It was with great trepidation that I began looking for a replacement. See, I have very sensitive skin, on the dry-side, and, it has to be said, I now fall in the "mature skin" category (hi new readers, I'm 47 years old). When I switch products I experience redness and often blemishes. Around the time that I began searching for new products, I got an email from my friends at Vegan Cuts – the leader in weekly deals on vegan products and now home to an online vegan market. They invited me to join their blogger review program and asked if I would I be interested in trying the MuLondon natural, organic skincare offered in the VC market.
Gladly!
I was invited to select two MuLondon moisturizers. I went with Organic Lavender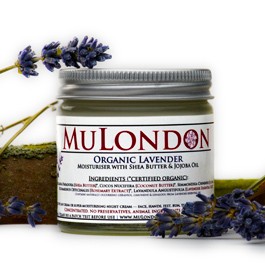 because it is "great for all skin types, including dry & sensitive skin" (raising hand in the air) and Organic Marigold, Frankincense & Myrrh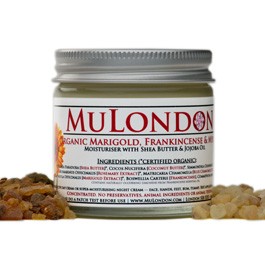 because it is "ideal for dry & mature skin" (hand still raised).
The lavender moisturizer ingredients include Vitellaria Paradoxa (Shea Butter)*, Cocos Nucifera (Coconut Butter)*, Simmondsia Chinensis (Jojoba Oil)*, Rosmarinus Officinalis (Rosemary Extract)*, Lavandula Angustifolia (Lavender Essential Oil)*.
The marigold moisturizer: Vitellaria Paradoxa (Shea Butter)*, Cocos Nucifera (Coconut Butter)*, Simmondsia Chinensis (Jojoba Oil)*, Rosmarinus Officinalis (Rosemary Extract)*, Matricaria Chamomilla (Blue Chamomile Extract)*, Calendula Officinalis (Marigold Extract)*, Boswellia Carterii (Frankincense Essential Oil), Commiphora Myrrha (Myrrh Essential Oil). (*Denotes Certified Organic Ingredients.)
My previous moisturizer: Octinoxate; Zinc Oxide; Octisalate; Ensulizole; Titanium Dioxide Water; Glycerin; C12-15 Alkyl Benzoate; Dimethicone; Cyclomethicone; Cetyl Alcohol; Cetearyl Alcohol; Ceteareth-20; Glyceryl Stearate SE; Sodium Lactate; Lactic Acid; Hydrogenated Coco-Glycerides; VP/Hexadecene Copolymer; PEG-40 Castor Oil; Sodium Cetearyl Sulfate; Xanthan Gum; Trisodium EDTA; Sodium Hydroxide; Alumina; Simethicone; Phenoxyethanol; DMDM Hydantoin
Right away you can see that I was testing two products with far more wholesome ingredients. And while my previous brand noted "cruelty free" on the packaging, it did not include vegan, PETA or bunny logos as MuLondon does.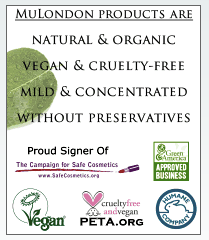 Learn more about the MuLondon philosophy here.
I pretty much won't buy a product without these items on the packaging.
There was a letter from Boris in the package which explained how to use the moisturizer:
Best applied on moist skin – after a bath or a shower. Melt a pea-sized amount between the palms of your hands and massage gently into your skin. Use sparingly. If your skin feels greasy after application – you have used too much!

Moisturizers are superb for dry and sensitive skin, and for all-over body use – ideal for face but also great for hands, arms, fee, lips, etc.
I decided to use both for my face - the lavender for daytime use and the marigold as a night cream. [click to continue…]
JL Fields, a vegan lifestyle coach, writes the blog JL goes Vegan and writes/edits the community blog Stop Chasing Skinny.
Recent Posts
by JL Fields
We asked our bloggers to craft some recipes from the different Success® Rice flavors and tell us about it. Check out their ideas and you could win a $100 Visa gift card!
Read more
Lean Pockets have no artificial flavors, a good source of protein & have 100% real cheese. Read our bloggers posts where they will tell you their guilt free experiences with Lean Pockets. Plus get a chance to win $100!
Read more