Triathlons For Children?
By
Sarah
on August 28, 2009
BlogHer Original Post
I know triathlons are all the rage these days but have you heard of these triathlons for kids?
Sarah Bowen Shea from Marathon Moms had an article in the New York Times this week called "See Jane Run, Bike and Swim". She talks about Children's Triathlons which features athletes ages 3 - 15.
In the Silicon Valley Kids Triathlon the race includes swimming 200 yards (four laps in the pool), biking 6 miles, then running 1.25 miles (five laps around the track).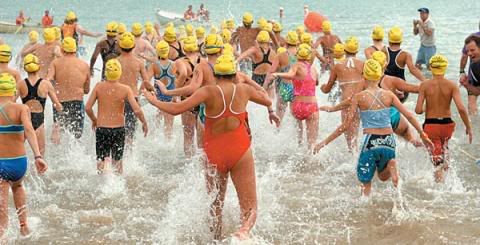 I think I may be opening up a can of worms with this, but here I go anyway. I have no problem with a 15 year old wanting to do a triathlon. Really, even a 10 year old knows what he or she is capable of (well, mostly), but a three year old? Biking six miles?
I know it is an endurance race but half of three years I know can't reliably pee in a toilet, how can a parent expect someone of that age to ride six miles on a bike? My kids are five now and they get tired (and bored) if we ride bikes to the playground that is probably half of a mile from our house. They just don't have the focus.
There are other risks too.
From Sarah Bowen Shea's NYT piece:
Triathlons for children have become tremendously popular, drawing
participants as young as 3 years old (who probably did not come up with
the idea themselves)... Adults, too, have been flocking to triathlons, and
not without controversy: risks include dehydration,
injury, heat exhaustion and even, occasionally, death. Doctors warn
that people of all ages need to approach triathlons gingerly, lest they
attempt more than their bodies can handle.

"At less than age 7, parents should be cautious," said Dr. Kevin D. Plancher, an orthopedic surgeon ... "There's not enough information for what these events can
do to the growth plates in children's shoulder, arms, pelvis, knees,
ankles and feet." He said that parents should consult a pediatrician to
assess if a child is ready.
There are other risks too. From Alison at RunBuggy:
There are psychological considerations, such as children becoming too competitive, or kids being pushed into
triathlons by their overzealous parents. Also, it's important to make
sure children do not go overboard with training. Boundaries need to be set, especially for an overly-competitive and driven child.

This isn't to say there aren't advantages. Obviously, exercise is good for kids. Exercise is good for everybody and if this is an excuse to get children outside and moving instead of sitting in front of their XBox or their DVR that can't be a bad thing.

This is from a parent of a 8 year old triathlete from the Santa Barbara Triathon Club.

Being triathletes ourselves, it
is so much fun to watch our daughter, and all of the other kids,
learning about, training for, and participating in the sport. We are
looking forward to the day when she will be racing right beside us (and
probably passing us by all too soon!!)...we highly recommend that you check out
the race next year... It is a blast to watch all of the ages and ability levels, from 7 year-old first-timers to up and coming teen sensations. We guarantee you will leave with a
smile on your face.

I guess, as with anything involving children, you want them to be active and healthy and to have fun, but remember that starting anything competitive at a young age can lead to early burnout. When a tween or teen elects to participate in a triathlon I think it can be a wonderful thing, but if it is a Type-A parent pushing a toddler into riding his or her tricycle six miles then swimming four laps in a pair of floaties that is borderline abusive.

I don't want you to think that I am against triathlons for children, I am just against triathlons for very young children.

And as Carol A. Clark points out, they are adorable.

After all, what kid doesn't like to run around, ride bikes and go swimming?

Contributing Editor Sarah also blogs at Sarah and the Goon Squad, Draft Day Suit and MamaPop.




Photo: Courtesy of McDonald's Kids Triathlon
Comments
More Like This
Lean Cuisine believes that women should be valued for their accomplishments as opposed to their weight/appearance. Lean Cuisine's new brand campaign Feed Your PhenomenalTM reflects its new brand purpose: to feed the greatness in every woman. Check out our bloggers' posts and see how they measure their true worth plus learn how you could win a $100.
Read more