Troubling Trends in Women's Sports
By
Sarah
on December 28, 2009
BlogHer Original Post
I just read the greatest post on troubling trends in women's sports. I know that what I just wrote sounds oxymoronic, but it is true. There is an article on Fair Game News that is entitled "Six troubled trends in women's sports (and what we can do) and it really struck home with me.
The post is so great that I would love to just copy and paste it here but I am pretty sure that is illegal and I am 100% positive that it is unethical, but I still want to go over all six points.
1) Ignoring the athletic development of girls. Okay parents, this is on us. How many of us sign our sons up for flag football and our daughters up for ballet? Yeah. Me too. But I always ask my daughter if she wants to play the sport to and if she says yes she is in. I recently convinced my daughter to take Tae Kwon Do with her brother. I know it isn't ice hockey but it will make her stronger.
This is an easy fix. We just need to think of our daughter's as potential athletes and not just dancers. (Not that dance can't be athletic, you know what I mean.)
2) The financial devaluation of women in sport. This one just makes me mad. The average salary in the NBA is $ 4,900,000 the average salary for a player in the WNBA is $ 55,000.
It isn't just basketball either. Golf, professional soccer and even tennis (although that has been getting better) all have skewed pay rates depending on gender.
How can we make this one better. Again, easy: Support women's sports. Go see a WNBA or WPS game. Go to see the women's team play at your local college or high school. Money in, money out.
3) Single Sex Sports - especially in grade school. Well let's just not let this happen. You can't tell me that a seven year old girl can't play soccer, or hockey or baseball, or golf as well as a seven year old boy. I have boy/girl twins and nobody can convince me that my daughter isn't as fast or strong as my son, so why should we be brainwashing children that they need to be separate? We shouldn't.

4) "Lady"-name-the-mascot. I hate this. It has always seemed so pandering. Like the original post says:
What's wrong: Until we're ready to put the label "gentlemen" before college mascots (say the Tennessee Gentlemen Volunteers, the Gentlemen Blue Devils?) modifying only the women's team nicknames creates, enforces, and publicizes a second class status. What to do: Call both teams by the same mascot name and bet most fans will know the difference.
Let's give fans the benefit of the doubt. They should be able to figure out if the team is comprised of men, women, or both based on context clues.
5) The pink-if-fication of sport equipment and wear – for females.

This is one of my pet peeves. Why would you wear this: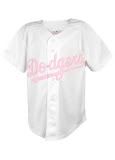 When you could be wearing this?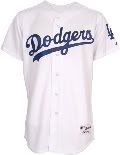 Look! The second one is in the team's colors and everything.
I like pink as much as the next girly girl. I am wearing a pink shirt as I type this, but my Buccaneers jersey is garnet and pewter and my UCF jersey is black and gold. If you are going to support the team wearing the team colors is a great way to show them you are a fan. Wearing a pink jersey is a good way to show them you are there to look cute.
And if you are a Red Wings fan and you look terrible in red there are away jerseys too. The white one with red writing is just as good.
Seriously ladies, unless you are supporting breast cancer awareness, please just buy a jersey in the team colors. They make them in women's cuts now so that they fit better.
6) Hot Pants for playing. And this goes for slutty uniforms too. I'm looking at you beach volleyball. And tennis.
Again, I will defer to the author of the original post:
What's wrong: Uniforms that are more about sex appeal than athletic zeal (and free movement) mark women's sports as entertainment of the wrong sort. What to do: No one says you have to wear granny rags to work out or play, but respect yourself as an athlete. Who wants to slide into third wearing hot pants (and whose idea are shorts in softball anyhow?)?
Right. Looking nice is fine, but what you wear to play should make sense with the sport and be comfortable. I know that a lot of these athletes have killer bodies but they can wear some nice athletic wear to the match and a little spandex dress to a club that night. If I had a body like Anna Kournikova I would be tempted to wear a bikini to the grocery store, but I wouldn't actually do it because it is inappropriate for the venue. The same should apply to sports. Then maybe women's sports would get a little bit more respect.
BlogHer Contributing Editor, Sports and Fitness can be found at Sarah and the Goon Squad, Draft Day Suit, and MamaPop.
More Like This
Del Monte Fruit Burst Squeezers are healthy snacks you can offer your children after a long day at school. 17 moms offer their best back to school snacking and lunch tips. Find some great ideas and get a chance to win a $100 VISA Gift Card on each blog.
Read more
Recent Comments
on Sports