A Tuscan Experience
BlogHer Original Post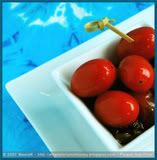 Meeta from the (German? Indian? Citizen of the World?) food blog What's for lunch, Honey? thinks back as she cooks.
She especially remembers a trip to the city of Florence:"... [now five-year old son] Soeren was due in a few months ... [the trip] was Tom's birthday present to me ... fulfilling a wish I had had since I was 16, to celebrate my 30th in Florence. ... The Italians are a warm and generous folk and being 6 months pregnant, I was always smiled upon whenever I walked into a store or a restaurant. People even put out their cigarettes when we took a table next to them ... The older nonnas, usually sitting on benches enjoying watching their grandchildren playing, would nod their heads, almost in approval."
~ Read the rest of Meeta's remarkable welcome to Florence and get the recipe for Tomatoes in Agrodolce in A Tuscan Experience
Did you get special treatment while pregnant? Share your story with Meeta!
BlogHer food editor Alanna Kellogg recommends slow-roasted tomatoes from her food column Kitchen Parade and Baked Eggs & Tomatoes from her food blog, A Veggie Venture.
Subscribe to Blogher's Food & Drink RSS Feed (more info)
Comments
Recent Posts
by Alanna Kellogg
Lean Cuisine believes that women should be valued for their accomplishments as opposed to their weight/appearance. Lean Cuisine's new brand campaign Feed Your PhenomenalTM reflects its new brand purpose: to feed the greatness in every woman. Check out our bloggers' posts and see how they measure their true worth plus learn how you could win a $100.
Read more