Uncle Lynn's Advice for Not Folding Under the Pressure of Your To-do List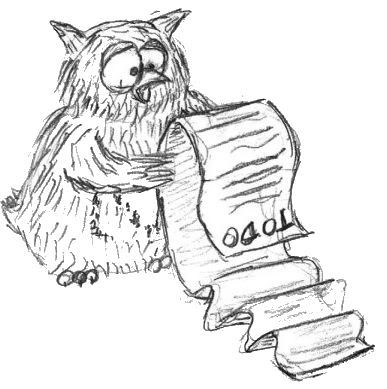 '
What is it about having a free day that seems to completely cripple my ability to get anything done? I spend all week thinking: on my day off I am going to do laundry and go to the bank and buy more coffee creamer and read the stack of magazines sitting beside my couch and finish the book I've been reading for weeks and write a poem, and a short story AND the breakout essay that will launch my career!, until the day arrives and I have morphed into a useless pile of sweaters checking my email every five minutes and rewatching episodes of How I Met Your Mother on Netflix.
Although I would love to be seen as a laid-back, easygoing kind of girl, it would be fair to say that, at times, I can be a bit high-strung. I tend to set pretty high expectations for myself, but when my mental to-do list begins to read more like a novella than a few simple bullet points, the urge to curl up in a ball of fuzzy blankets and tune out the real world becomes pretty irresistible.
An excellent example: within my first two weeks of college, I joined eleven campus organizations. Obviously, this was a huge mistake. For one, there was no way that I could attend that many weekly meetings and go to class andmaintain my very first part-time job. And of course I couldn't just sit at the meetings, listening and occasionally offering my opinions. Oh no, I had to take on some actual responsibility! Inevitably, this gross undertaking quickly led to me lying in a comatose state for a week while watching the first five seasons of Scrubs on dvd. In a single semester, I went from being a total campus rockstar! and a proactive college representative!, to being in ZERO campus organizations and getting my first and only D+ after skipping my oceanography class for nearly three full months (Oh, you mean this course doesn't involve hanging out at the beach and crafting with seashells?).
Eventually, my Uncle Lynn (with whom I was staying at the time) decided to intervene. After sitting me down at the kitchen table and forcing me to eat something other than Ramen noodles, he gave me maybe the most obvious yet valuable advice I have ever been given: Pick the most important task at hand and focus all of your energy on it. When you're finished with that, then you can move on. You can only worry about one thing at a time; the rest will just have to wait.
Although this is certainly not a revolutionary idea, having this little mantra to repeat to myself has made all the difference since. There will always be a million things to do, and rarely enough free time to do it. The most important thing is not to let the weight of it all overwhelm you, or you'll never get anything done. Believe me, I know.
As for my use of free time today, at least I updated my blog!
Follow BlogHer on LinkedIn: http://www.linkedin.com/groups/BlogHer-28615
More Like This
Recent Posts
by Lee Nance
Our bloggers tried out Panasonic's HomeTeam App. An online service that connects loved ones across generations and distance. Read more and see how they shared activities and built lasting memories. PLUS get a chance to win a $100.
Read more
Recent Comments
on Career