An Uncommon Meeting Sparks Civil Dialogue, Launches New Site
There are two sides to every story.
Aimee Says:
I wanted to eat my breakfast.
"Everyone," said Lisa Stone from the stage, "it's time for Speed Dating."
Imagine a hotel convention room filled with thousands of women. Not just ordinary women. Blogger women.
That morning, I was late to the BlogHer conference welcome breakfast hosted by co-founders Elisa Camahort Page and Lisa Stone. I was hungry. I wanted to eat.
"Form two big circles around the outside of the room."
"I hate ice breakers," I said to myself as I inhaled scrambled eggs. "I hate speed dating."
"There's room over on this side. Let's go, ladies!"
Then it occurred to me. "You bought the ticket. Now get up and speed date!"
I joined the outside circle that faced the inside circle. For the next 20 minutes, the circles moved around each other. And I met fabulous bloggers. Bloggers who blog about food and family and carpet and cities. Bloggers with beautiful business cards and creative names. Bonbon Break. The Downtown Project. The Succulent Wife.
Our hostesses issued the one-minute warning, and my mind returned to the bacon abandoned on my plate. "Hang on, breakfast. I'm coming!"
I had time to meet one last blogger.
A gorgeous, vibrant blonde from California introduced herself to me. "Hi, I'm Lisen Stromberg," she said. "You look so familiar. Where have I seen you?"
"Hi, I'm Aimee Whetstine," I said and shook hands with her. "I was syndicated on BlogHer this week. You may have seen my face there."
"What was the article?" said Lisen.
I braced myself. "I wrote the Chick-fil-A post."
Have you ever witnessed a cat and a dog face off for the first time?
We tried to make small talk about our blogs, but we kept coming back to the issue at hand. I couldn't understand why civil unions weren't enough. Lisen couldn't understand why my church didn't approve of gay marriage. Back and forth it went. Each of us holding our positions with dignity and without screaming.
There was another blogger waiting to speak to Lisen. As I said goodbye and turned to go, I looked down at Lisen's business card in my hand.
The moment of truth fell like the sunlight through clouds.
"You know," I said as I turned back to face her. "We should do something together. We should write about this."
Lisen's eyes met mine. Was she thinking the same thing?
"Yes, we should," she said.
"It would be good for my readers," I said, "and for yours too, I think."
"Yes, it would." she said.
* * *
Lisen Says:
Aimee might call it an act of God. I think of it more as serendipity.
But whatever it was, something brought us together that morning at BlogHer '12 in New York City, facing off across from each other at the conference's annual "speed date" meet and greet.
I had already met a host of food bloggers, a pack of DIY bloggers, and a few marketers trying to convince me why their products would be a great fit for my blog. But, since I am not much of a cook, can't sew for the life of me, and don't take ads on my personal blog, there wasn't much of a love connection.
And then I met Aimee.
She was that perfect mix of southern graciousness and steel magnolia, with sparkling eyes and a ready smile. When I asked her why she looked familiar, she said, almost reluctantly, "I wrote the Chick-fil-A post."
Oops. Well, there goes a love connection.
If there is any way to find one blue state/red state lightning rod issue, the Chick-fil-A brouhaha just might be it. When the company's founder publicly denounced the notion of marriage equality, I asked readers of my weekly Palo Alto Patch column to consider if they wanted to support his homophobic ideology with their hard-earned dollars.
Aimee demurred. With her usual wit and good sense, she argued in her BlogHer post that boycotting Chick-fil-A, or any company that doesn't align with your personal politics, was not good for the economy -- and kind of silly, too.
"I don't hate gay people. I don't believe the Cathy family and their franchisees hate gay people. I don't plan to stop eating at Chick-fil-A anytime soon. I understand if your convictions differ. You can stop eating there if you want. You'll be missing out on some mighty fine chicken if you do."
I told her I couldn't disagree more, and then we had that rare thing, a meaningful civil discourse illuminating our different points of view. We didn't agree on much, but we did agree on one thing: This country needs more thoughtful, respectful debate on issues that matter.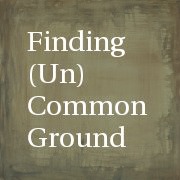 So, here we are, working together to find common ground with the uncommon notion that civil discourse is possible. We've launched a neutral, shared website called Finding (Un)Common Ground.
We'll regularly post our views on hot topics, and invite you to dialogue and share your thoughts. All comments and perspectives are welcomed, provided they are expressed within the bounds of civility.
Last week, we posted about the events in Libya and Egypt. This week we are pondering freedom of speech. Next week? You can be sure the issue will be dicey. We hope you'll visit, share, and comment.
Civil discourse must be achieved if we are to find understanding and solutions within the issues that divide us and our country.
Please join the dialogue at Finding (Un)Common Ground .
You are invited to read , follow us on Twitter (@uncommonground1) and on Facebook.
COMMENTS
Recent Posts
by UnCommon Ground