An Uncommon Meeting Sparks Civil Dialogue, Launches New Site
Syndicated
If there is any way to find one blue state/red state lightning rod issue, the Chick-fil-A brouhaha just might be it. When the company's founder publicly denounced the notion of marriage equality, I asked readers of my weekly Palo Alto Patch column to consider if they wanted to support his homophobic ideology with their hard-earned dollars.
Aimee demurred. With her usual wit and good sense, she argued in her BlogHer post that boycotting Chick-fil-A, or any company that doesn't align with your personal politics, was not good for the economy -- and kind of silly, too.
"I don't hate gay people. I don't believe the Cathy family and their franchisees hate gay people. I don't plan to stop eating at Chick-fil-A anytime soon. I understand if your convictions differ. You can stop eating there if you want. You'll be missing out on some mighty fine chicken if you do."
I told her I couldn't disagree more, and then we had that rare thing, a meaningful civil discourse illuminating our different points of view. We didn't agree on much, but we did agree on one thing: This country needs more thoughtful, respectful debate on issues that matter.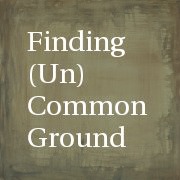 So, here we are, working together to find common ground with the uncommon notion that civil discourse is possible. We've launched a neutral, shared website called Finding (Un)Common Ground.
We'll regularly post our views on hot topics, and invite you to dialogue and share your thoughts. All comments and perspectives are welcomed, provided they are expressed within the bounds of civility.
Last week, we posted about the events in Libya and Egypt. This week we are pondering freedom of speech. Next week? You can be sure the issue will be dicey. We hope you'll visit, share, and comment.
Civil discourse must be achieved if we are to find understanding and solutions within the issues that divide us and our country.
Please join the dialogue at Finding (Un)Common Ground .
You are invited to read , follow us on Twitter (@uncommonground1) and on Facebook.
Related Posts
Recent Posts
by UnCommon Ground
Conference Links
Conference Posts
Recent Comments
on Conferences