The Ups, Downs and All Arounds of Managing a Multi-Contributor Blog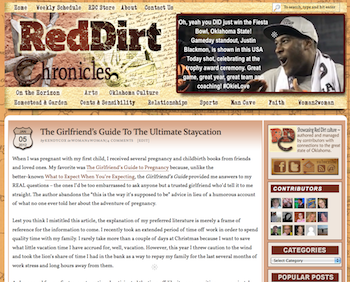 Sometimes I question whether or not I was lucid when I decided to start a multi-contributor blog eighteen months ago.
I had no "I'm gonna start me a blog" savings account built up for that purpose. I was, and am, in a doctoral program full-time. And, I'm a full time clinical instructor. And the chair of a non-profit board of directors, a wife, a mommy, a therapist and supervisor.
No, I don't just question whether or not I was lucid. I take that back.
I question whether or not I was lucid, how I rationalized the idea to myself, why I started something I really didn't understand, and wonder at least weekly how the hell I'm going to keep up the work it takes to continue to grow the project.
We have about 1030 Facebook friends now, but I don't know what that means. We're annualizing about 120,000 page views per year right now with about 1.5-2.5 minutes per page view on most days. Sometimes it's 3 minutes average per page on certain days and I get excited, but I'm not sure why.
Sometimes I post one of our links on Reddit that gets swept up into all that Reddit can be and it gets 5,000+ reads. Other times, I or one of our contributors construct a beautiful post; I read it and think, "Pure art." Then it gets 10 reads or less.
I spent time seeking, meeting with, thinking through together a plan out loud, and getting agreements for all our contributors to write posts on various schedules.
Our sports writer got a job as a professional hockey announcer and front-man for the team, partially because of his work on our blog.
Our "Man Cave" contributor cross-posted some of his work he created for his blog, modified for our blog...onto a parenting blog one day, and within a couple of days it exploded. He's now one of the top-ten all time "pinterest" pages, and has left our project to develop his own.
I hope at some point ALL of our contributors get to spread their wings and fly like the few that already have.
I'm not sure I've even taken the time to consider the meaning of the facts I just wrote. In therapist terms, I would say, "The constructed reality of my blog is still...under construction."
I think, in the big blog world, our project is basically "small but growing." In niche terms, it's fairly well defined. In readership terms, people come to our blog more to read about information that the thoughts of people...so it's not so much a "personal" blog, although I encourage our contributors to be open and honest.
Sometimes our contributors forget to write. Sometimes they need breaks. Sometimes they need to move on. And sometimes, they write something so brilliant the blog rides the readership wave for several days.
When I read their work, I feel like I am in a relationship with them that goes beyond an editor and authors. I feel like I truly care about them and the care THEY took in crafting every post...every sentence...every key stroke. I genuinely love our contributors.
But I can't pay them. I've tried to get interns twice in order to sell ads and work on marketing and failed both times. And I feel that at some point, some day, these beautiful people will have to stop...somewhere the costs and benefits will tip too much toward the costs side of the fulcrum, and I'll get a note or a call.
And then, will I find others to fill their places? I'm not sure.
What I do know is this...I'm proud of where we've come from. I'm proud of where we're going. And, if we ever get a break or begin making money, I'm splitting it in some fashion or form between all our contributors. A formula should be easy enough to create - something to do with impact (length of post + readership + whatever). Well, maybe not so easy, but that's what I would do.
In 18 months I've invested almost $4,000 into our site, our promotions, our IT tweaks, and into supplies such as t-shirts, postage, or business cards. Our income has been about $400. In other words, I've gotten back 10% of what I've invested so far.
When I provide couples therapy, I charge $125.00 per hour. When I provide supervision for licensure, I charge $75 per session.
My own sense of costs and benefits and the place at which the fulcrum supports this precarious beam is quite possibly way out of whack.
But today, Kendy Cox, Our "Woman2Woman" writer, wrote a really nice post called "A Girlfriend's Guide to the Ultimate Staycation." She's already at 292 reads. We've had 703 page views with 185 visits. Approximately 3.73 pages per visit. and on average people stayed with us for about 2:37 minutes.
I don't know what any of that means. But I know I know Kendy better because I read her post today. I know I care about her family. I know I'm glad she didn't respond to e-mail while she was on vacation, and I'm glad her family has her.
That's what I know about managing a multi-contributor blog. I know I care about our writers, and if it came right down to what keeps me going every single day...well, it's them.
Find me at the Red Dirt Chronicles...
Best, Red Dirt Kelly
COMMENTS
Recent Posts
by Red Dirt Kelly
Most Popular
We asked our bloggers to craft some recipes from the different Success® Rice flavors and tell us about it. Check out their ideas and you could win a $100 Visa gift card!
Read more
Lean Pockets have no artificial flavors, a good source of protein & have 100% real cheese. Read our bloggers posts where they will tell you their guilt free experiences with Lean Pockets. Plus get a chance to win $100!
Read more