Vegan Collard Rolls in Spicy Tomato Sauce from Phoo-d
BlogHer Original Post
I'm a huge fan of collard greens, which have a flavor that's much sweeter than many other types of greens. But although the collard greens first attracted me to this recipe for Vegan Collard Rolls in Spicy Tomato Sauce from Phoo-d, it was the interesting sauce flavored with turmeric, hot curry powder, and saffron that made me certain that this dish would be a winner. And in case you need any more convincing, the rolls are filled with a mixture of rice, raisins, beans, almonds, and preserved lemon. Doesn't that all sound like a great combination?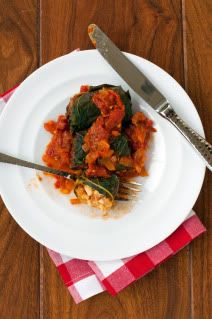 Photo of Vegan Collard Rolls with Spicy Tomato Sauce
from Phoo-d
Get the recipe for Vegan Collard Rolls with Spicy Tomato Sauce from Phoo-d.
Have you made something interesting for Meatless Monday this week? If so please share the recipe link or your recipe in the comments. You can find more Meatless Monday recipes by clicking the tag Meatless Mondays.
BlogHer Contributing Editor Kalyn Denny also blogs at Kalyn's Kitchen where she's committed to low-glycemic cooking, and at Slow Cooker From Scratch, where she features "from scratch" slow cooker recipes. Kalyn probably won't ever be a vegetarian, but she does love to make meatless dishes like Whole Wheat Sesame Noodles with Spicy Peanut Sauce.
[
BlogHer Food '12 will bring food bloggers together to learn, share, inspire, and of course, to EAT! Whether you're new to food blogging or an old pro, you should join us in Seattle, WA on June 8-9, 2012 -- register now!]
Comments
More Like This
Recent Posts
by Kalyn Denny
Our bloggers use the new ARM & HAMMER™ Truly Radiant™ Collection for a radiant smile. Read their posts where they share a few of their real-life experiences and advice on how to feel radiant day-in and day-out. Plus get a chance to win a $100!
Read more
HORMEL® REV® Wraps Reviews & Giveaway
With a little help from HORMEL®, bloggers share how they get their teens the fuel they need for their on-the-go lifestyles. Read their posts and enter for a chance to win $100!