"I love to cook…and often make overly ambitious recipes that frustrate me."
Me, too! I like the idea of fancy vegan recipes but ultimately they intimidate me and take much longer to prepare than I like. Good news! It is easy to make interesting, delicious and healthy meals with very few ingredients.
This week I returned home from a trip to Colorado (where I'm moving!) and I had not yet gone to the grocery store. I had purchased a bunch of curly kale, impulsively, the day before we left and it was still fresh and lovely in the crisper of the refrigerator. I scanned my mason jars and saw some black lentils in my cupboard. I also hadhomemade vegetable broth in an airtight container in the refrigerator. Those three things, plus avocado oil, garlic, onion, almond slivers and a bit of Bragg's Liquid Aminos and I was ready to make a super-easy eight ingredient meal.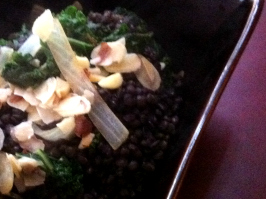 I love the ease of using a rice cooker so I put the lentils and veggie broth in it (I used 2 cups dry lentils + 4 cups vegetable broth; this made a huge batch of lentils and I froze half), set it on the brown rice setting and let it go for 40 minutes. [click to continue…]