Vintage-Inspired Hair Accessories
Don't you ever feel a little jealous of the fancy British women that get to wear fancy little hats to equestrian events and such? Is it just me? Okay, maybe I don't want to wear a two-foot-high fascinator, but I think that a little bit of hair bling doesn't hurt anybody. Michelle Obama nearly single-handedly brought back the brooch with her vintage and vintage-inspired statement pins, but I confess I'm still not apt to wear a big brooch on my sweater. But in my hair? That's a trend I can get behind.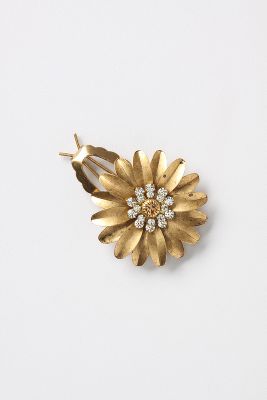 Lutea Barette at Anthropologie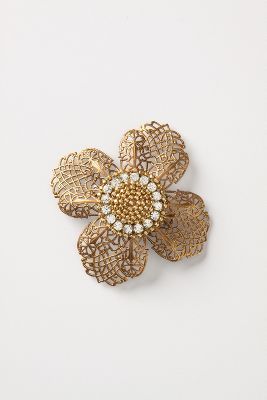 Filigree Genetian Barette at Anthropologie
See? Just a wee bit of bling. Wear it tucked into a bun, or to pin back your side-swept bangs or use it to hold just a bit of your long hair back from your face.
Victorian Paste Hair Clip at Carole Tanenbaum
This piece is an actual vintage piece (circa 1910) from Michelle Obama's vintage jeweler of choice. It's beautiful and expensive, but a great example of how vintage hair accessories can work for modern women. This clip could work for practically any outfit -- from suits and dresses to jeans and a t-shirt.
little star hair comb at chrystalyn
cranberry hair comb at chrystalyn
I love these more casual hair combs from chrystalyn. Most days my hair is swept back into a functional ponytail, but these hair combs would make it easy to add just a little bit of fun and whimsy to an otherwise boring everyday hairstyle.

Flapper Inspired Fascinator at LoveCharlie
Fascinators have made a come-back, particularly for wedding wear, but they're perfect for other special events. A fascinator may be a bit much for a run to the grocery or a day at the office, but what about a night out with your girlfriends or that special someone? I love how this particular fascinator reinterprets the silk flowers and feathers used in classic fascinators with pleated cloth flowers, buttons and just a few flowers for height.
I really don't think those posh British women should be getting all the fun while normal folks are stuck wearing conservative hair bands and clips made to blend in with our hair. It's okay to stand out, even just once in a while, and vintage-inspired hair accessories are a great way to add a bit of interest to an outfit while being as subtle or over-the-top as you'd like.
Nina Moon also blogs at Sweet Disarray.
COMMENTS
Recent Posts
by Nina Moon
We asked our bloggers to craft some recipes from the different Success® Rice flavors and tell us about it. Check out their ideas and you could win a $100 Visa gift card!
Read more
Lean Pockets have no artificial flavors, a good source of protein & have 100% real cheese. Read our bloggers posts where they will tell you their guilt free experiences with Lean Pockets. Plus get a chance to win $100!
Read more