Vrolijk Kerstfeest!
Christmas comes but once a year, so the old song goes, but wait! Christmas is celebrated at different times, in different ways, all the world over. It's December 6 and let's see what the Dutch are doing this evening. You can bet the celebrations will include gifts and good food.

On December 6, wooden shoes hold hay for Santa's
reindeer at night and gifts in the morning.
When I was a child, I was fascinated with the Dutch celebrating Sinterklaas, or St. Nicholas' Day, on December 6 every year. I was told they would leave one of their wooden shoes outside their door with hay in it for Sinterklaas' reindeer. In the morning, there would be a little gift left in the shoe where the hay had been the night before.
Now, in addition to the visit from Sinterklass on December 6, the Dutch also celebrate an American type Christmas called Kerstfeest, with first Christmas or Eerste Kerstdag on December 25 and second Christmas or Tweede Kerstdag on December 26, both of which are public holidays. The Dutch, therefore, seem to have a great time in December and have more than one holiday to which to look forward.
Karin Engelbrecht
If you want to see some mouthwatering Dutch recipes, visit Karin Engelbrecht's blog. Karin is a Dutch food editor and mentions that a big part of the December Dutch holidays is eating and enjoying family fellowship. The specialty foods she profiles easily explain why. Just look at her November 30, 2010 entry for spiced cupcakes typically eaten on December 6: Truffle Kruidnoten Cupcakes. Here's a photo that will make you catch a plane to Amsterdam, or at least visit the spice aisle at the neighborhood grocery: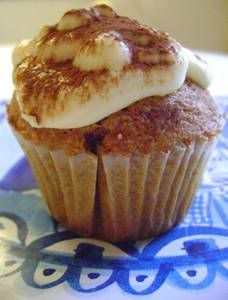 Karin's Truffle Kruidnoten Cupcakes
Before we go on too much longer about the Dutch, we should mention the wearing of wooden shoes. Long before there were rubber garden shoes in common use, many people in European countries wore wooden shoes as matter of course. My father, in fact, had a good friend who, born in the 1920s, grew up in Holland and spent his childhood and youth in wooden shoes.
Wooden shoes were and are inexpensive, last a long time and don't let in the moisture. I have a pair of wooden shoes that were carved for me in Holland, Michigan. I really like them for gardening as the mud, when the weather is wet in the spring, does not hurt them at all. I wear think socks with them and just leave them inside the back door, gently tapping them off outside before I enter the porch.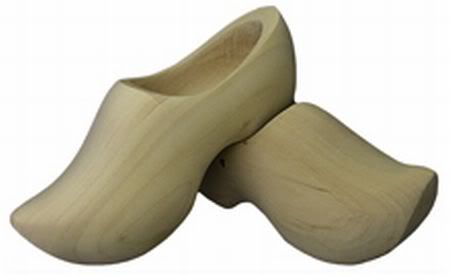 Wooden shoes are made in Holland, Michigan.
They can be bought plain or highly decorated.
If you would like your own pair of wooden shoes, click on this link to see how to order. They can be ordered plain so that you can decorate them, or you can select from a number of styles and designs. Be forewarned! The small "baby size" wooden shoes are VERY hard to resist. And, if you are now in the mood to enjoy other things Dutch, try looking at this web site that has some extraordinary items.
One last thing, of course about food, you also might enjoy this Dutch cookbook that has great reviews and lots of traditional recipes. For a preview, click on this link:
Dandy Dutch Recipes
COMMENTS
Recent Posts
by SunbonnetSmart.com
Most Popular
We asked our bloggers to craft some recipes from the different Success® Rice flavors and tell us about it. Check out their ideas and you could win a $100 Visa gift card!
Read more
Lean Pockets have no artificial flavors, a good source of protein & have 100% real cheese. Read our bloggers posts where they will tell you their guilt free experiences with Lean Pockets. Plus get a chance to win $100!
Read more