Need a Creepy Halloween Novel? "Dark Lullaby" by Mayra Calvani
Featured Member Post
October is here with a bang! The leaves have turned and it's time to crank up the wood stove. Today, for our Halloween Book Pick, we're interviewing Mayra Calvani, author of the supernatural psychological thriller, Dark Lullaby, that everyone is talking about. It's such a pleasure to have her with us today!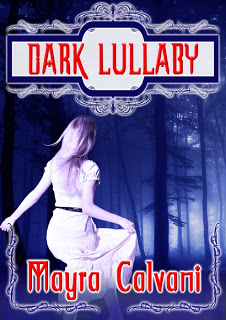 Mayra Calvani writes fiction and nonfiction for children and adults and has authored over a dozen books, some of which have won awards. Her stories, reviews, interviews and articles have appeared on numerous publications such as The Writer, Writer's Journal, Multicultural Review, and Bloomsbury Review, among many others. When she's not writing, reading, editing or reviewing, she enjoys walking her dog, traveling, and spending time with her family. She's currently touring the blogosphere to promote her supernatural thriller, Dark Lullaby.
Can you tell us about your new book, Dark Lullaby?
This is the back cover blurb:

At a tavern one night, astrophysicist Gabriel Diaz meets a mysterious young woman. Captivated by her beauty as well as her views on good and evil, he spends the next several days with her. But soon he begins to notice a strangeness in her…especially the way she takes pleasure in toying with his conscience.

The young woman, Kamilah, invites him to Rize, Turkey, where she claims her family owns a cottage in the woods. In spite of his heavy workload and the disturbing visions and nightmares about his sister's baby that is due to be born soon, Gabriel agrees to go with her.

But nothing, not even the stunning beauty of the Black Sea, can disguise the horror of her nature... In a place where death dwells and illusion and reality seem as one, Gabriel must now come to terms with his own demons in order to save his sister's unborn child, and ultimately, his own soul.
How did you come up with the idea to write your book?
I lived several years in Turkey, where part of the story takes place. I learned a ton about Turkish customs and folklore.

Many Turkish people believe in the cin (pronounced 'jean'). Not the jinn as westerners know it; you know, the genie that comes out of magic lamps. The cin is a much darker creature that could be lightly compared to the fairy. In Turkish myth, it is a being that lives in the forests. It can be good or evil. It is of spirit form but can shapeshift into an animal or human. Like the western fairy, it is often volatile, mischievous and prone to pranks, some of which can be deadly.

Now, want me to get creepy? It has a bizarre taste for human liver and, when in human form, its feet are set backwards.

I was darkly fascinated by the accounts I heard, fascinated enough to write a novel. Thus, Dark Lullaby was born.
Can you describe your typical writing day?
It has taken me quite some time to find my natural rhythm and to face the fact that I'm not one of those super prolific writers who can cough up a whole novel in 3 months. I'd love to be one of those! But I'm not. My inner critic is always present, agonizing over each word, each sentence. I can't help editing as I write. So right now it takes me about two years to complete a novel. I write in the mornings. I set my timer and work in 90-minute increments. So I'll do 90 minutes, then take a break to do some housework or run an errand, then come back and do another 90 minutes, and so on. If I'm in the zone, I'll keep at it for 3 hours or so without stopping, but on average, I write 2-3 pages a day, or 10-15 a week.

Of course, I work on other things besides my novel. I'm currently putting together an anthology as well, so afternoons are for that, along with my freelance publicity work, which sucks up a lot of my time.
How long did you take to write your book?
About two years, but I also worked on other projects during that time.
How did you get it published?
My current publishers are Twilight Times Books and Guardian Angel Publishing (for my children's books), both traditional small presses, but I self published Dark Lullaby after getting my rights back from Whiskey Creek Press.

Self publishing Dark Lullaby has been an interesting learning experience, but would I do it again? Maybe, maybe not, I'm not sure.
Now's your chance to talk to your readers. What would you like to tell them?
If you'd like to read a chilling story that's different and set in an exotic locale, give Dark Lullaby a try. There's no gore nor is it graphic, yet one of the reviewers said it scared the daylights out of her.
How can we buy your book?
Dark Lullaby is available on Kindle: http://www.amazon.com/Dark-Lullaby-ebook/dp/B005UI7FOG
How can we find you online?
Comments
More Like This
Recent Posts
by DorothyThompson
Help protect your family from the transmission of harmful bacteria and viruses! Use Lysol's Full Bathroom Range to remove soap scum, lime scale, and everyday dirt and grime to leave your bathroom smelling clean and fresh.
Read more
Most Popular
on Entertainment
Recent Comments
on Entertainment