"We Saw Your Boobs" at the Oscars - Seth MacFarlane's Sexism, Biting Satire or Both?
Seth MacFarlane performed what is likely Hollywood's most thankless job Sunday night -- hosting the Oscars. Right on cue, his bad reviews came in. Buzzfeed, among many other publications such as Daily Beast, did a takedown of his "juvenile" material and his nine most sexist moments. Not being familiar with Mr. MacFarlane's work, I have no stake whatsoever in defending or attacking him, but have a different take on at least some of the material he is being skewered for today.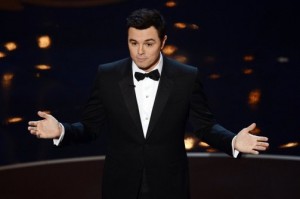 First among the musical numbers that were lambasted was McFarlane singing "We Saw Your Boobs" to the most prominent and award-winning actresses in Hollywood, starting with Meryl Streep, who bared her breasts in Silkwood. No one was spared, not Oscar winners Charlize Theron or Anne Hathaway. Hit especially hard was Oscar Winner Kate Winslet, who he basically accused of baring her breasts in every movie she did. His vocals were augmented in this "upbeat" number via a rousing finale by the Gay Men's Chorus of Los Angeles. The skit even featured cutaways to some of the women, including Charlize Theron, who did a disgusted face-palm in reaction to him.
The thing is, these reaction shots were pre-taped, as evidenced by the fact that Theron was wearing a different outfit in her reaction shot than she was wearing to the event that evening. These actresses were in on, thereby theoretically consenting to, the joke. But whether one finds the skit to be in poor taste (and I did), misses the larger point being made by the material. Meryl Streep, for example, is considered the goddess of acting. The rest of these women are among the crème de la crème of show business and yet, the take away of all their magnificent performances over the years was, "Hey, we saw your boobs!" McFarlane may be many things, but he is no dope. He knew exactly what he was doing.
By performing this déclassé sketch, wasn't Mr. McFarlane shining a bright line on the prurient attitude that we regularly complain of in the entertainment industry – and in fact, by the media as a whole? That a woman's achievement takes second place to her looks; that a voyeuristic bent seeks to demean women rather than celebrate their accomplishments and that some women, willingly or reluctantly, participate?
A woman's beautiful performance could be cheapened, even nullified, because somebody pirated a two-second snippet where the actress was nude and then blasted it all over the internet. All of this was made very clear by this sketch.
Was this undignified and irreverent? Sure. And that may not deserve applause, but it is hypocritical for media outlets to now act self-righteous and complain when his song directly followed ninety minutes of network coverage of all the female stars on the red carpet. Every part of their appearance from their dress and choice of designer, hair, make-up, weight, height and demeanor was scrutizined and will be rated for weeks to come, with the unlucky ones to be raked over the coals for a lot longer. Just ask Anne Hathaway about her "inconvenient nipple protrusion," wherein her beautiful dress has been criticized far and wide because of the darts sewn into the bustline. Aren't these fashion gurus grading, and degrading, these women, too?
Buzzfeed then complained that there was a "joke about domestic violence" – and here it is:
MacFarlane said of the film Django Unchained: "Django is a movie where a woman is subjected to violence, or as we call it, a Chris Brown and Rihanna date movie."
I doubt MacFarlane's comment was making light of domestic violence. On the contrary, it was a slap in the face to the entirety of Hollywood and the music industry.
Last week, I wrote the following:
Images of Rihanna nestled close to fiancé Chris Brown at the Grammys last week were disturbing, considering he had previously punched her in the face, bitten and beaten her, even tattooing what appeared to be an image of the same on his neck.

…[O]ur celebrity driven culture tends to make heroes of, or at the very least, excuse famous men with unsavory, even violent, behavior.
And this…
Two recent studies reveal that overtly sexual images of women influence not only the way men see women but worse still, the way women value – or devalue — themselves, as if their worth is connected only to their physical appearance and the pleasure they can offer. Is it any wonder that when Chris Brown got public grief for his treatment of Rihanna, girls were actually blogging about how "he could beat them up anytime." That Rihanna, or any woman, would return for the possibility of more of the same treatment is something passing understanding.
So was Seth MacFarlane making a joke at Rihanna's expense, or at Hollywood's? Or society-at-large? Didn't he tell the truth? Brown did beat Rihanna and yet she is still with him. He is still making music and has not been made a pariah in his industry. So is Seth MacFarlane championing Chris Brown or pointing a finger at how preposterous it is that this kind of behavior is tolerated, and that people look the other way…?
What of the comment that "the orgy was taking place at Jack Nicholson's house after the telecast"? Does the name Roman Polanski ring a bell? This man sodomized a thirteen-year-old girl while at Jack Nicholson's home, only to have Whoopi Goldberg defend Polanski's actions years later by saying, this "was rape, but it was not rape rape." What does that mean, Ms. Goldberg?
Another on Buzzfeed's list of flops by MacFarlane…
"The Prospect of George Clooney Getting with Quvenzhané Wallis Was Discussed"
Comments
More Like This
Recent Posts
by Anita Finlay
Save time, money and space with the FoodSaver® Vacuum Sealing System! AND it keeps food fresh up to 5x longer! Read our bloggers' experiences with the FoodSaver® System and see why you should get one for your home. Plus get a chance to win $100 Visa gift card!
Read more
Most Popular
on Entertainment