Wearing Vintage While Dressing For Work
I have two dresses from dances that I attended in high school that stick out in my mind. The first was the prom dress I wore my senior year. It was a white flapper dress that I wore with a pair of long, satin gloves. No one else wore anything close to something that cool. Even though some of the snobbier girls looked at me like I was crazy plenty of girls came up to me in the bathroom while I was touching up my makeup (most likely applying some horrid shade of blue eyeshadow) and whispered, "Oh, wow. I love your dress. That is so cool!"
The other dress is from a homecoming dance where I had to crown the next year's Homecoming Queen (at this point you may stop and laugh but please, whatever you do, don't ask me to do the elbow-elbow-wrist-wrist wave I had to do during the Homecoming Parade). That year I was starting to come into my own and was confident enough to buy a black velvet sleeveless dress from our local Goodwill store. It cost me $5 and I spent some time convincing myself that some movie star wore it at one time.
While I'm pleased that I have dabbled in the vintage genre for my wardrobe as a teenager I am less than pleased that I have trouble finding professional looking outfits that flatter me as a grown woman. That doesn't stop me from trying. It just requires a bit more work on my part. First, because one must find the shops or online boutiques to begin with and second, because "vintage" is a codeword for "back when sizes were completely different and women were TEENY TINY ITTY BITTY". That doesn't bode well for the full-figured.
Luckily, I've got a few sites to start my search. (And a lot of wonderful Twitter friends who provided their favorites!)
Freckle Wonder is an easily navigable site with the most affordable vintage clothing prices I've seen. This adorable raspberry space top was an instant favorite at $10 but it was "sold" by the time I refreshed the page.
Mod Cloth tends to be more on the pricey side but if you're shopping for items that are well-made and can translate easily into the world of work, this is the place to search. I could see wearing the Chateau Marmont dress for a long time. At $79.99 it was priced slightly higher than I would normally pay for a dress but the fact that no one else would ever walk into my office wearing it pushed it over to the "Ok. I'll buy it!" side for me.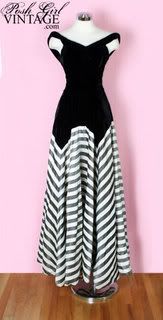 Posh Girl Vintage has fantastic choices of vintage clothing but I think they really hit the mark with their dresses. Pay close attention to the title of this site. It has the word "posh" in it. That practically screams YOU MAY NEED TO STOP EATING FOR A FEW MONTHS TO AFFORD OUR AWESOME DRESSES. Still, check it out. If you have a special occasion coming up and you want unique and vintage then this is the site for you. Many of their clothes are easily worn in the working world. If we weren't in a recession this 1930's Long Striped Velvet Evening gown could be hanging in my closet. (Ok, not true. The last velvet dress I bought vintage was five bucks, remember?)
Speaking of recession, there is a Recessionista Shop 'n' Swap coming up this Saturday and it sponsored by one of my new favorite online shopping websites called Madras641. If you're looking to unload some clothing as well as pick up some new finds you should check this out.
Here are a few other places that you can check out.
T.F.A. is in St. Louis and has furniture and homewares as well as clothing.
Rag-O-Rama has four locations in St. Louis (MO), Columbus (OH), Atlanta (GA), and Indianapolis (IN).
Buffalo Exchange has mulitple locations and deals quite a bit in trading.
Vintage Trends is entirely online and includes vintage and military trends.
Even if you're not searching strictly for working wear these stores offer the best in vintage clothing. I have since "lost" the black velvet dress I wore for Homecoming but that flapper dress is still in my possession. In fact, I pull it out periodically just to try it on for fun.
The best part of that vintage dress?
It still fits.
ADD A COMMENT
Recent Posts
by Kelly Wickham
Most Popular
Chateau Ste. Michelle ALWAYS delivers remarkable wine experiences. We asked our bloggers to try Chateau Ste. Michelle wine and share the story behind their perfect sip. Read their reviews plus get a chance to win $100!
Read more
The enamel of baby teeth and new adult teeth is vulnerable to damage. Help protect your child's teeth for years to come by using ProNamel 6-12 Years Toothpaste. Read our bloggers' posts and see you should start your kids with using ProNamel 6-12 Years Toothpaste plus get a chance to win $100!
Read more