Weekend Menu Planning: Autumn Means It's Time to Make Soup!
BlogHer Original Post
On my blog I've often talked about how I hate winter weather, but I love winter cooking. There's something about a big pot of simmering soup or stew that fills the house with wonderful aromas and makes you feel like all's right with the world. Autumn is officially here, so it's time to make soup!
For a few weeks I wondered when I'd start to see soup recipes popping up on the food blogs, and then one day about two weeks ago I suddenly felt like making soup myself. There must be some kind of seasonal-recipe biological clock that tells food bloggers when it's time for certain dishes, because before I had even posted my soup recipe, I started spotting soup recipes on other blogs. Here are some of the first soups of the season that have been looking good to me.

Photo of Chickpea Soup
from The Pink Peppercorn
It was the Chickpea Soup from The Pink Peppercorn that inspired me to make my own version of Chickpea Soup. Gail said she didn't think this soup looked that appetizing, but to a chickpea lover like myself, it was impossible to resist!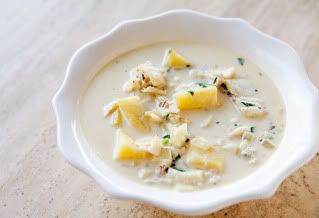 Photo of New England Fish Chowder
from Simply Recipes
At Simply Recipes I thought this New England Fish Chowder looked warm and comforting. Elise recalls her years living in Boston as she makes this creamy "chow-dah."

Photo of Bacon and Potato Leek Soup
from The Hungry Mouse
I also loved the sound of Bacon and Potato Leek Soup from The Hungry Mouse. If you haven't cooked with leeks, there are good photos and instructions here about how to cut and wash them.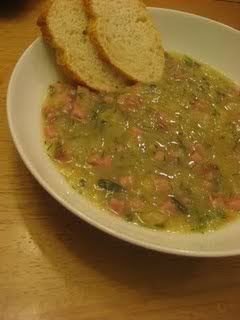 Photo of Zucchini, Potato, and Ham Soup
from Everything Rachel Ray
At Everything Rachel Ray, Madeline declares "Yippee! It's Time for Soup!" as she shares the recipe for Zucchini, Potato, and Ham Soup. Madeline just posted this yesterday, and one commenter has already made it and agreed it's a keeper.

Photo of Onion Soup
from Mrs. W's Kitchen
Finally, Amanda at Mrs. W's Kitchen got a jump on the season when she posted her recipe for Onion Soup clear back in September, but it's easy to see why she couldn't wait to make this wonderful looking soup. Amanda also has some good information to share about the health benefits of onions, so be sure to read that.
More Autumn-Welcoming Soups I'd Find Hard to Resist:
~Italian Chicken and Escarole Soup from Food Blogga
~Crab Bisque from Phoo-D
~Curried Sweet Potato and Wild Rice Soup from Happy Herbivote
~Spiced Up Lentil Soup from Tales from the Fridge
~Carrot Soup with Rosemary Apple Bread from Half Baked
Has soup been on the menu yet at your house this Autumn? If you have made soup, please share your recipe, post the link, or at least tell us about your soup in the comments!
(Every Thursday night on BlogHer, we spotlight five recipes with a common theme for a feature called Weekend Menu Planning, hoping one of them might make it onto the menu at your house. You can find previous recipes shared by clicking the tag Weekend Menu Planning.)
Kalyn Denny also blogs at Kalyn's Kitchen, where she's focused on creating low-glycemic recipes using fresh ingredients. Kalyn's first soup this year was Chickpea Soup with Garlic, Sumac, Olive Oil, and Lemon, inspired by The Pink Peppercorn's soup mentioned above.
Trending Now
More Like This
Recent Posts
by Kalyn Denny
We Talked About Menopause & How Replense can Help. Replens™ is the clinically tested, doctor recommended brand of long-lasting v
Read more
Green & Black's Organic Chocolate Reviews & Sweepstakes
We placed Green & Black's Organic Chocolate to the test! Check out these delicious chocolate recipes and recreate them using exceptional, fairtrade ingredients. Plus get a chance to win $100 cash equivalent and a chocolate prize pack.