Weekend Menu Planning: Black-Eyed Peas to Bring You Luck in the New Year
BlogHer Original Post
For several years now I've been on a one-woman campaign to get BlogHer readers to cook black-eyed peas for luck on New Year's day. Lots of people make Hopping John, or perhaps Hopping John Soup for New Year's Day, both good ways to get your yearly dose of black-eyed pea good luck, but if you'd like some more creative ways to eat black-eyed peas this year, here are some good ones from food bloggers.
You are going to cook some black-eyed peas, aren't you? I sincerely hope so, because in tough times like this, most of us can use as much good luck as we can get!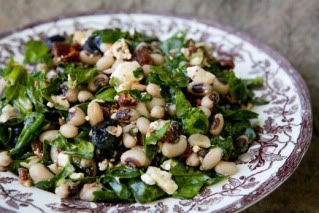 Photo of Greek Black-Eyed Pea Salad
from Simply Recipes
No matter what else I was eating on New Year's Day, I'd love to have this
Greek Black-Eyed Pea Salad
from Simply Recipes on the side.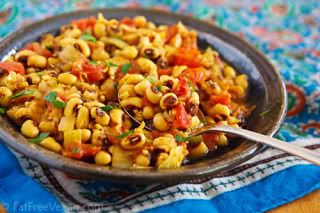 Photo of Black-Eyed Pea Masala
from Fat Free Vegan Kitchen
For an Indian-Spiced take on black-eyed peas, you might like
Black-eyed Pea Masala
from Fat Free Vegan Kitchen.

Photo of Green Black-Eyed Peas
from Eclectic Recipes
Angie from Eclectic Recipes combined fresh black-eyed peas and snap beans to make this dish she calls
Green Black-Eyed Peas
.

Photo of Black-Eyed Pea Salsa
from The Pioneer Woman Cooks
Black-Eyed Pea Salsa
from The Pioneer Woman Cooks has celery, red bell pepper, green onion, cucumber, and cilantro, plus a spicy dressing to get the good luck going!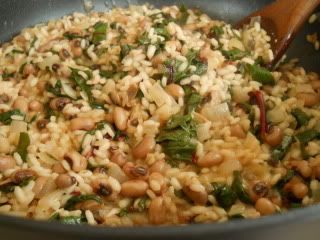 Photo of Hopping Gianni Risotto
from Fab Frugal Food
And if you like to have a little fun with the name of your lucky food, you'll enjoy this
Hopping Gianni Risotto
from Fab Frugal Food.
Ten More Ways to Eat Your Lucky Black-Eyed Peas:
New Year's Day Smoky Black-Eyed Pea Dip ~ from Salad in a Jar
Hopping John ~ from Michael Ruhlman
Hopping John Soup ~ from A Veggie Venture
Black-Eyed Pea and Chorizo Soup ~ from Homesick Texan
African Sweet Potato Soup with Peanut Butter, Black-Eyed Peas, and Beans ~ from Gluten Free Goddess
Spicy Black-Eyed Peas ~ from Eclectic Recipes
Yam 'n Black-Eyed Peas Curry ~ from Edible Garden
Hopping John Slow Cooker Recipe ~ from A Year of Slow Cooking
Creamy Black-Eyed Pea Salad ~ from A Mingling of Tastes
Fresh Black-Eyed Peas Kurma ~ from Cooking 4 All Seasons
More Black-Eyed Pea Recipe Round-ups from BlogHer.com
Black-Eyed Peas for New Year's Day or Kwanzaa
Do You Cook Black-Eyed Peas on New Year's Day for Good Luck in the New Year?
Eat Some Lucky Foods for a Prosperous New Year
(Every week on BlogHer, we spotlight five recipes with a common theme for a feature called Weekend Menu Planning, hoping one of them might make it onto the menu at your house. You can find previous recipes shared by checking the Weekend Menu Planning Archives or clicking the tag Weekend Menu Planning.)
Kalyn Denny also blogs at Kalyn's Kitchen where she's focused on creating low-glycemic recipes using fresh ingredients. Kalyn always makes Hopping John Soup for New Year's Day, but this year she's also making Black-Eyed Pea Hummus with Olive Oil and Sumac and hoping for a double dose of good luck!
Comments
More Like This
Recent Posts
by Kalyn Denny
From wipes, to bleach to clean up spray, Clorox covers all your clean, sick-free home needs. See why our bloggers use Clorox products in their home plus get a chance to win $100!
Read more