Weekend Menu Planning: Celebrate Whole Grains Month by Cooking with Bulgur
Recently I was visiting my father and happened to pick up a small local newspaper that was on his table, only to discover that September is Whole Grains Month! This was the first I'd heard about it, but I'm a whole grains woman every month of the year, so I'd never pass up a chance to encourage people to eat more whole grains. To get the celebration started, let's take a look at bulgur, a whole grain that doesn't even have to be cooked!
Bulgur is a type of par-boiled, de-branned, and dried cracked wheat that's used in Middle Eastern, Turkish, Indian, and Mediterranean cooking. If you're familiar with the Middle Eastern salad called tabbouleh, bulgur is the grain ingredient used in that dish. Because it's par-boiled and is meant to have a chewy texture, bulgur simply has to be soaked in boiling water and it's ready to eat.
Not only is bulgur a great ingredient in salads, pilafs, and baked goods, it can also be used in place of rice in dishes like stuffed peppers or soups. It's also sometimes used as a meat extender in meatloaf or meatballs. Take a look at these recipes featuring bulgur that caught my eye, and if you have a good recipe that uses bulgur, please share in the comments.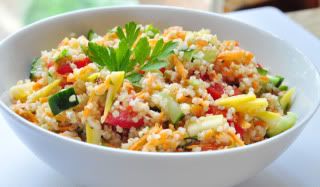 Photo of Bulgur Vegetable Salad
from Dlyn
It was this breathtaking Bulgur Vegetable Salad from Dlyn that got me thinking about featuring bulgur for Weekend Menu Planning. The salad has a lovely assortment of seasonal veggies and herbs, dressed with a slightly sweet honey-lemon dressing.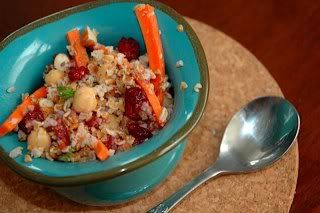 Photo of Moroccan Spiced Bulgur and Chickpea Salad
from The Skinny Gourmet
Another bulgur salad I'd happily gobble up is the Moroccan Spiced Bulgur and Chickpea Salad from The Skinny Gourmet. Not only does the salad feature my beloved seasoning combination of lime and cumin, but there are also carrots, almonds, and mint bumping up the interest here.

Photo of Heart Healthy Mackerel, Pepper, and Bulgur Wheat Salad
from Mostly Eating
You can combine bulgur with another healthful and delicious food if you make the Heart Healthy Mackerel, Pepper, and Bulgur Wheat Salad from Sophie at Mostly Eating. Sophie's in the U.K., so if mackerel is hard to find where you are, just substitute another fish that's high in Omega-3 fatty acids.

Photo of Bulgur Pilaf with Roasted Eggplant and Raisins
from Eating SF
I love the idea of combining bulgur with eggplant in the Bulgur Pilaf with Roasted Eggplant and Raisins I found at Eating SF. I think this could be a great side dish for a more formal dinner, but Kasey reports she ate it as a one-dish meal, with a nice glass of wine.

Photo of My Mother's Spicy Greens with Bulgur
from 64 Sq. Ft. Kitchen
Finally, a very interesting idea for using bulgur, and one that Warda from 64 Sq. Ft. Kitchen wrote about after she went to Algeria to visit her family is the dish she's calling My Mother's Spicy Greens with Bulgur. Warda uses greens native to that area, but she has ideas for others that can be used in this dish seasoned with cumin, turmeric, and red chile pepper flakes.
More Interesting Ideas with Bulgur:
Bulgur with Cheese and Eggplant from The Perfect Pantry
Spicy Southwest Bulgur Salad from What We're Eating
Bulgur Carrot Soup from Zandria.us
Mustard Greens and Bulgur from Kirby Von Scrumptious
Lentils with Bulgur Wheat and Caramelized Onions from 28 Cooks
Tabbouleh with Heirloom Tomatoes and Shiso from Just Hungry
Kibbeh from Seriously Good
(Every Thursday night on BlogHer, we spotlight five recipes with a common theme for a feature called Weekend Menu Planning, hoping one of them might make it onto the menu at your house. You can find previous recipes shared by clicking the tag Weekend Menu Planning.)
Kalyn Denny also blogs at Kalyn's Kitchen, where she's focused on creating low-glycemic recipes using fresh ingredients. Kalyn loves bulgur and recently a friend gave her a wonderful recipe for Bulgur Salad with Tomatoes, Cucumber, Parsley, Mint, and Lemon.
ADD A COMMENT
Recent Posts
by Kalyn Denny
Most Popular
Simply Beverages™ use never-from-concentrate juices in all of their beverages. And they never add any preservatives, colors or artificial flavors. Read our bloggers' posts and find fun beverage recipes you can serve this summer! Plus get a chance to win $100.
Read more
Latest comments
Excedrin® Migraine relieves sensitivity to light, sensitivity to sound, nausea and relieves pain in just 30 minutes. Read our bloggers' posts as they talk about their experiences with migraine and how they cope with it. Plus get a chance to win $100!
Read more