Weekend Menu Planning: Dip Into Something Hot for Superbowl Sunday
If you live in the U.S., you no doubt realize there's a big football game coming up on February 6. Whether you're going to a party, hosting one, or just watching with the family, it's time to start planning your Superbowl menu. I think every Superbowl party needs dips, and lately I've been dreaming about hot and creamy dip recipes. I hope you haven't finalized your menu yet, because I'm sharing some options for you to test out before the big game day arrives.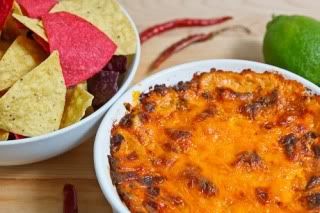 Photo of Taco Dip
from Closet Cooking
Who wouldn't love dipping into this
Taco Dip
from Closet Cooking? This recipe combines ground beef, cream cheese, sour cream, mayo, salsa, cheese and spices and is baked until it's hot and bubbly.

Photo of Hot Crab, Spinach, and Artichoke Dip
from Life's Ambrosia
Another dip I think looks fabulous is this
Hot Crab, Spinach, and Artichoke Dip
from Life's Ambrosia. This creamy combination is a spin-off of something Des loved at a restaurant where she worked many years ago, and it brings back memories when she makes it.

Photo of Creamy Hot Crab Dip on the Stovetop
from White on Rice Couple
Lots of hot dips are baked or cooked in a crockpot, but I love the idea of this
Creamy Hot Crab Dip on the Stovetop
from White on Rice Couple.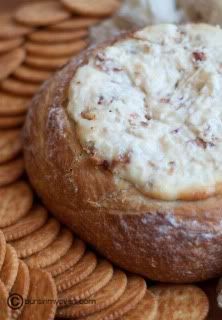 Photo of Hot Bacon Cheese Dip
from Buns in My Oven
At Buns in My Oven, Karly's kids loved this
Hot Bacon Cheese Dip
that's baked in a bread bowl, and I bet your Superbowl guests will love it too.

Photo of 7 Layer Bean Dip
from Simply Recipes
You may have had this type of bean dip with cold beans, but Elise has improved upon the concept at Simply Recipes by realizing that refried beans taste better when they're hot. In this recipe for
7 Layer Bean Dip
, the beans are heated with spices, then quickly put in a bowl and topped with cheese before other toppings like avocado, tomato, olives, sour cream, and cilantro are added.
More Hot Dip Ideas for Superbowl Sunday:
Hot Black Bean Dip ~ from The Perfect Pantry
Buffalo Chicken Dip ~ from Your Homebased Mom
Acorn Squash Dip ~ from Macheesmo
Hot Bean and Cheese Dip ~ from Life's Ambrosia
Hot Olive and Artichoke Dip ~ from The Pioneer Woman Cooks
Hot Crab Dip ~ from Simply Recipes
Hot Fiesta Dip ~ from Amanda's Cookin'
Hot Artichoke Dip ~ from C'est La Vegan
Hot Spicy Crab Dip ~ from Chez Us
Hot Swiss Chard Artichoke Dip ~ from Farmgirl Fare
More Superbowl Food Ideas:
Five Superbowl Menu Options from BlogHer 2009
Pick Your Chili Recipe for Superbowl Sunday from BlogHer 2009
44 Chili Recipes for Superbowl XLIV from BlogHer 2010
Nutritious Dips for the Superbowl from BlogHer 2008
(Every week on BlogHer, we spotlight five recipes with a common theme for a feature called Weekend Menu Planning, hoping one of them might make it onto the menu at your house. You can find previous recipes shared by checking the Weekend Menu Planning Archives or clicking the tag Weekend Menu Planning.)
Kalyn Denny also blogs at Kalyn's Kitchen where she's focused on creating low-glycemic recipes using fresh ingredients. If it's Superbowl Sunday, you'll find Kalyn at her brother Mark's Superbowl party and she'll probably be bringing Shrimp and Macaroni Salad.
COMMENTS
Recent Posts
by Kalyn Denny
Most Popular
We asked our bloggers to craft some recipes from the different Success® Rice flavors and tell us about it. Check out their ideas and you could win a $100 Visa gift card!
Read more
Lean Pockets have no artificial flavors, a good source of protein & have 100% real cheese. Read our bloggers posts where they will tell you their guilt free experiences with Lean Pockets. Plus get a chance to win $100!
Read more