Weekend Menu Planning: Five Menu Options for Your Superbowl Party
BlogHer Original Post
There are people who love football, and then there are people like me who just love Superbowl parties. Sometimes I feel like I should wear a sign saying "I'm just here for the food," so people realize why my eyes glaze over if someone actually starts to talk about the game. Actually though, even when you like football, an essential part of the Superbowl experience is delicious food, so for this edition of Weekend Menu Planning I'm featuring tasty ideas from food bloggers for Superbowl party options.
Of course the number of tasty things to serve at a Superbowl party isn't limited to these five categories, so if I've missed one of your favorite Superbowl-watching snacks, do share in the comments!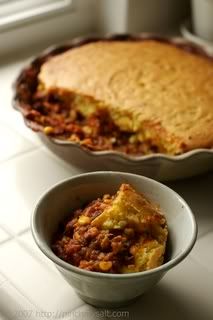 Superbowl Menu Option #1: Chili, Plain or Fancy!
If you'd like something to impress your Superbowl party guests, I'm thinking the
Vegetarian Chili Pie with Cornbread Cheddar Crust
from Pinch My Salt (pictured above) is sure to do the trick. If you'd rather have your chili in a bowl, I've already invited you to
Pick Your Chili Recipe for Superbowl Sunday
, where you'll find plenty of options. More Chili recipes that look good to me are
Tyler's Texas Chili
from TriniGourmet and
Turkey Green Chile Chili
from The Perfect Pantry.
Superbowl Menu Option #2: Chicken Wings
I think chicken wings are usually one of the first things to disappear from the buffet table at any party, and the
Buffalo Wings
from Two Peas and Their Pod (pictured above) sound like they'd be delicious football watching fare. For more tasty wings, check out Alannas round up of
Wings Recipes for FootBall parties
. Other wings I think look amazing are the
Chicken Wings Pok Pok Style
at Feel Good Eats and
Cajun Wings
from Andrea's Recipes.
Superbowl Menu Option #3: Dip into some Dip!
Yes, many of us grew up eating that onion dip made from soup mix and sour cream, but the
Carmelized Onion Dip
from Andrea's Recipes (pictured above) is not only much more healthful, but it sounds much tastier too. More dips that I think look fantastic are the
Seven Layer Bean Dip
from Simply Recipes,
Cilantro and Lime Hummus
from Two Peas and Their Pod, and
Bacon Cheddar Layered Dip
from MizMell. If you want nutritious dip options, last year I urged BlogHer readers to
Dip Into Something Nutritious for Superbowl Sunday
, so you can find a lot more dip ideas there.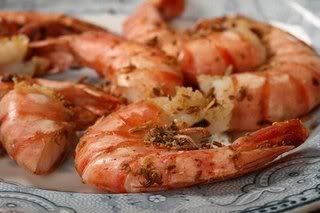 Superbowl Menu Option #4: Anything with Shrimp!
Pille from Nami Nami lives in Estonia, so she definitely didn't create
Spicy-Salty Tiger Prawns
(pictured above) for the Superbowl, but don't you think they look like a delicious Superbowl option? Other shrimp that look like party fare to me include the
Shrimp and Mango Kabobs
from Cooking with Amy,
Crockpot Barbecue Shrimp
from A Year of Crockpotting,
Lemon -Basil Shrimp
from Kitchen Parade, and
Chili-Garlic Shrimp
from The Cookmobile.
Superbowl Menu Option #5: Something Sweet and Crunchy
Finally, every Superbowl party has to have at least something that's sweet, and a sweet-crunchy snack that most people love is caramel corn, like the delicious version of
Caramel Popcorn
(pictured above) from Adaptations. More caramel corn options include the
Superbowl Caramel Corn
at Barbara Bakes and the
Caramel Popcorn Balls
from The Skinny Gourmet.
More Superbowl Recipe Round-Ups from Bloggers:
~Gluten-Free Superbowl Snacks from Ginger Lemon Girl
~Superbowl Recipes from Simply Recipes
~Superbowl Eats from Feel Good Eats
~Healthy Superbowl Recipes from Mighty Foods
~Superbowl Recipes from Rachel Ray from Everything Rachel Ray
(Every Thursday night on BlogHer, we're featuring five recipes with a common theme for a feature called Weekend Menu Planning, with hopes that one of them might make it onto your menu for the upcoming week. You can find previous recipes shared by clicking the tag Weekend Menu Planning.)
Kalyn Denny shares her passion for low-glycemic cooking at Kalyn's Kitchen where she just shared Ten Low-Glycemic Menu Options for a South Beach Diet Friendly Superbowl Party.
Comments
More Like This
Recent Posts
by Kalyn Denny
From wipes, to bleach to clean up spray, Clorox covers all your clean, sick-free home needs. See why our bloggers use Clorox products in their home plus get a chance to win $100!
Read more