Weekend Menu Planning: 44 Chili Recipes for Super Bowl XLIV
BlogHer Original Post
What foods come to mind when you think about Super Bowl party foods? I'm willing to bet chili pops up on just about everybody's list, and there are plenty of good reasons why chili is popular. Chili is both nutritious and economical, it's easy to make and it can be adapted to suit pretty much every type of diet. There are chili variations with chicken, turkey, beef, pork, or other more unusual meats, as well as vegetarian chile recipes that don't contain meat. There are chilis with black beans, pinto beans, white beans, or a combination of bean types, or chili recipes with no beans at all. The one ingredient chili must have is some type of ground or chopped chile peppers; that's where the name chili comes from.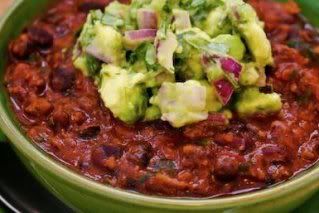 Photo of Black Bean and Beef Chili with Cilantro, Lime, and Avocado Salsa
from Kalyn's Kitchen
No matter what else you're eating for Super Bowl Sunday, there should be at least one kind of chili to round out the menu. I can't imagine how many different chili variations there are, but for Superbowl XLIV, here are forty-four chili options I found on food blogs all over the country. Check out the chili recipes that sound good, then let us know in the comments which of these chili recipes you'd like to try. (And if you have your own great recipe for chili, let us know about that in the comments too!)

Photo of Three Bean Vegetarian Chili
from Prudence Pennywise
Vegetarian Chili
1) Three Bean Vegetarian Chili in the Crockpot from Prudence Pennywise has roasted red peppers and butternut squash puree to thicken the chili.
2) White Bean Chili from Fat Free Vegan Kitchen uses Great Northern beans.
3) Pierce Street Vegetarian Chili from 101 Cookbooks has garbanzo beans, lentils and barley.
4) Vegetarian Chili from Aayi's Recipes has black beans and butternut squash.
5) Best Vegetarian Chili Ever from She Just Walks Around with It has ginger, mustard seed, and cocoa powder.
6) Vegetarian Chili from The Way the Cookie Crumbles has soy sauce, ground coriander, and cayenne pepper.
7) Crockpot White Chili from A Year of Slow Cooking has white beans and corn.
8) Easy Vegetarian Bean Chili from Cheap Healthy Good uses a can of pureed tomatoes, which are essential to the recipe.
9) Michael's Vegetarian Chili from Andrea Meyers has zucchini, green peppers, and three kinds of beans.
10) Vegetarian Chili from My Columbian Recipes has grated carrot and a touch of brown sugar to sweeten the dish.
11) Vegetarian Black Bean Chili from Mele Cotte has red bell peppers and cumin.
12) Chipotle Sausage Chili with Apple and Black Beans from Vegan Yum Yum uses grain sausage, Tamari, and carrots.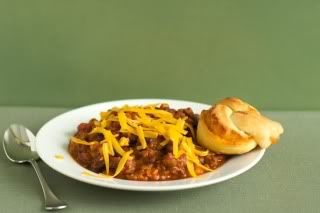 Photo of Beef and Three Bean Chili
from Pinch My Salt
Chili with Beef, Pork, or Other Meats
13) Beef and Three Bean Chili from Pinch My Salt has pinto beans, black beans, and kidney beans.
14) Tyler's Texas Chili from Trini Gourmet has beef and a touch of cinnamon.
15) Easy Slow Cooker Chili at Savour Fare uses ground beef and pinto beans.
16) Chipotle Chili from Cooking with Amy uses chunks of pork, chipotles, and a touch of orange juice.
17) "If I Had a Pepper" Pork Chili from Not Eating Out in New York has coffee, bacon, corn, and a variety of chile peppers.
18) Venison or Antelope Chili from Hunter Gardener Angler Cook has coffee, blackstrap molasses, and plenty of spice.
19) Black Bean and Beef Chili with Cilantro, Lime, and Avocado Salsa is my all time favorite chili.
20) Bison Chili in the Crockpot from Gluten Free in Georgia is so easy, you don't even have to brown the meat!
21) Some of The Best Chili Ever from No Ordinary Homestead has ground chuck, red and green bell peppers, and chili beans.
22) CrockPot Ancho Chili with Beans from Souther Grace Gourmet has red and black beans, ancho chiles, and Mexican beer.
23) Kentucky Chili from My Own Sweet Thyme has traditional chili ingredients with broken spaghetti added at the end!
24) Chili from Life's Ambrosia has beef, beef broth, kidney beans, and dark beer.

Photo of Turkey Chili
from Simply Recipes
Chili with Turkey or Chicken
25) Turkey Chili from Simply recipes uses kidney beans and leftover turkey.
26) Smoky Turkey Chili with Chipotle Peppers from Cookin' Canuck has two kinds of beans.
27) Pumpkin Turkey Chili from Kristen at Serious Eats has pumpkin and kidney beans.
28) Turkey Green Chile Chili from The Perfect Pantry uses green chile peppers.
29) Chicken and Sweet Potato Chili from Well Fed also has cannellini beans.
30) Santa Fe Chicken Chili from Gluten-Free Goddess has New Mexico green chile peppers.
31) Crockpot Chicken Taco Chili from Gina's Weight Watcher Recipes has corn and two kinds of beans.
32) Black and White Chicken Chili from Leite's Culinaria has a mix of black and cannellini beans.
33) White Chicken Chili from Kitchen Parade has cumin, diced green chiles, and corn.
34) Healthy Chipotle Chicken Chili from Food Blogga has corn, black beans, avocado, and chipotles in adobo sauce for plenty of heat.
35) Slow Cooker Green Chicken Chili with Kale from Nourishing Days has Great Northern beans and diced green chiles.
36) Chicken Chili with Navy Beans from Half-Assed Kitchen has green salsa, green pepper, and cilantro.
37) Chipotle Chicken Chili from Sarah's Cucina Bella has black and kidney beans.
38) White and Black Bean Ranchero Chicken Chili from Picky Palate is seasoned with Ranch Dressing mix and topped with cilantro crema.
39) Buffalo Chicken Chili from Everything Rachel Ray is topped with corn chips with blue cheese melted on top.
40) Dave's Turkey Chili from Baking Bites came from a firefighter and has ground turkey and barbecue sauce.

Photo of Texas Seven-Chile Chili
from Homesick Texan
Traditional Texas Chili with No Beans
41) Texas Seven-Chile Chili from Homesick Texan has seven types of chile peppers
42) How to Make a Pot of Texas Red Part One and Part Two from Homesick Texan shows how Lisa makes the true Texas chili she remembers.
43) Nick's Drunken Texas Chili from The Paupered Chef has bourbon, beer, and wine with beef chuck!
44) Firecracker No-Bean Chili from Rice Daddies has won some chili contests!
So there you have it, forty-four different but delicious-sounding chili recipes. Which one of these would be the winning chili recipe at your house?
(Every week on BlogHer we spotlight five recipes with a common theme for a feature called Weekend Menu Planning, hoping one of them might make it onto the menu at your house. You can find previous recipes shared by clicking the tag Weekend Menu Planning.)
Kalyn Denny also blogs at Kalyn's Kitchen where she's focused on creating low-glycemic recipes using fresh ingredients. Kalyn has a lot of chili recipes, but for the Superbowl Party at her brother Mark's house, she better show up with Black Bean and Beef Chili with Cilantro, Lime, and Avocado Salsa.
More Like This
Recent Posts
by Kalyn Denny
Our bloggers took on painting projects of their own with the help of Glidden Paint. See how easy home painting projects can be plus get a chance to win $100!
Read more
Dixie Ultra Moments® Reviews
Celebrate Life's Special Moments with Dixie Ultra Moments®. They're strong enough to hold up to any gathering or party. Go ahead. Celebrate with style and strength!