Weekend Menu Planning: Grilled Pizza for National Barbecue Month!
Last week we focused on tips for grilling fish and chicken, and next up for National Barbecue Month is grilled pizza! Let me start by confessing that I've never made grilled pizza myself, so if you haven't heard of cooking pizza on a grill, we can learn this together! I have no doubt I'll like grilled pizza, judging from the many food bloggers who are raving about how grill-top cooking makes the pizza crust delightfully crisp.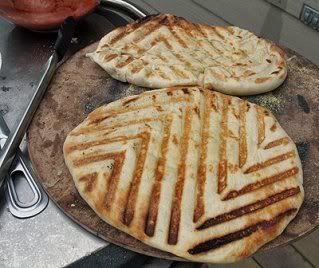 Photo part of Step-by-Step Instructions for Pizza on the Grill
from Amanda's Cooking
There are great Step-by-Step Instructions for Making Pizza on the Grill at Amanda's Cooking. You can see the great grill marks she got on her pizza in the photo above. Amanda says that grilling pizza is a bit like stir-fry cooking, in that you need to have all your ingredients ready when you begin.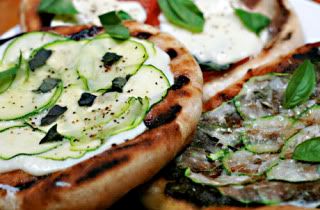 Photo of Easy Whole Wheat Pizza on the Grill
from The Perfect Pantry
At The Perfect Pantry, Lydia has good instructions Easy Whole Wheat Pizza on the Grill. Lydia separates the dough into balls for individual pizzas before it rises, and her instructions include brushing one side of the rolled-out pizza dough with oil, cooking for 2-3 minutes on the grill, turn turning over and putting the toppings on the pre-cooked side.

Photo of Thin Crust Pizza on the Barbecue
from Seduction Meals
More grilled pizza ideas from Seduction Meals, where a guest poster shares a great-sounding recipe for Thin Crust Pizza on the Barbecue. There are two options for toppings in this recipe: one pizza with mozzarella, olives, and fresh basil, and a white pizza with chopped clams and garlic.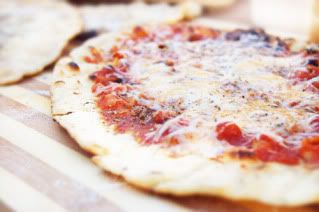 Photo of Grilled Pizza
from Wicked Good Dinner
There's another Grilled Pizza at Wicked Good Dinner, where Dawn says you can even use purchased-pizza dough for pizza cooked on the grill. She's confident that "once you master bread dough on the grill, you'll never want to eat pizza any other way."

Photo of White Grilled Pizza
fom Andrea Meyers
Finally, if traditional red-sauced pizza isn't your thing, you might like the White Grilled Pizza from Andrea Mayers which has Parmesan and Feta Cheese as well as other toppings like spinach, onion, and mushrooms.
More Grilled Pizza Ideas from BlogHer Cooks:
From Whistlestop Cafe Cooking ~ BBQ Pizza with Italian Sausage and Peppers
From Three Many Cooks ~ Grilled Zucchini Pizza with Feta and Olives
From Two Peas and Their Pod ~ Grilled Pizza
From Leite's Culinaria ~ Grilled Pizza with Pepperoni and Mushrooms
From Chez Us ~ Grilled Prosciutto and Black Truffle Pizza with Egg
(Every week on BlogHer, we spotlight five recipes with a common theme for a feature called Weekend Menu Planning, hoping one of them might make it onto the menu at your house. You can find previous recipes shared by clicking the tag Weekend Menu Planning.)
Kalyn Denny also blogs at Kalyn's Kitchen where she's focused on creating low-glycemic recipes using fresh ingredients. Kalyn loves to make South Beach Diet friendly pizza, but she hasn't made pizza on the grill - at least not yet!
ADD A COMMENT
Recent Posts
by Kalyn Denny
Most Popular
Simply Beverages™ use never-from-concentrate juices in all of their beverages. And they never add any preservatives, colors or artificial flavors. Read our bloggers' posts and find fun beverage recipes you can serve this summer! Plus get a chance to win $100.
Read more
Excedrin® Migraine relieves sensitivity to light, sensitivity to sound, nausea and relieves pain in just 30 minutes. Read our bloggers' posts as they talk about their experiences with migraine and how they cope with it. Plus get a chance to win $100!
Read more