Weekend Menu Planning: Homemade Dinner Rolls to Try Out Before Thanksgiving
BlogHer Original Post
When I was a kid, my mom was famous for her homemade bread, rolls, and cinnamon rolls. This was in the days before breadmakers, no-knead bread, or rolls that pop out of those cylinder-shaped containers. Mom had a lot of good tricks for homemade bread, and today I'm sharing one she used every Thanksgiving.
Every year my mom would make big pans of homemade rolls a few days before Thanksgiving, cooking them until they were nearly done, but not too browned. Then on Thanksgiving day she'd pull them out of the freezer, thaw, and pop them in the oven after she took out the turkey, so they'd be perfectly browned and hot when it was time for dinner.
There are a lot of good cooks making rolls these days too, and most recipes for rolls can be frozen, then thawed and reheated the way my mom used to do it. If you haven't made homemade rolls, or haven't settled on what kind of rolls you'd like to serve for the big turkey holiday, here are some very Thanksgiving-friendly recipes for rolls I found on the BlogHerAds food blogs.

Photo of Glazed Honey Pan Rolls
from The Frugal Girl
The Frugal Girl has Glazed Honey Pan Rolls that look very similar to what my mom used to call Pull-Apart Rolls. There are step-by-step photos here of how to make the rolls, as well as links to some other recipes for rolls.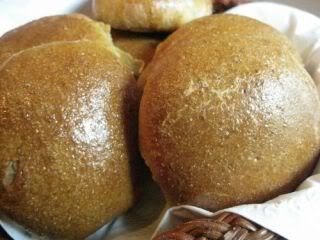 Photo of Whole Wheat Dinner Rolls
from In Good Taste
I love whole wheat rolls, and the Whole Wheat Dinner Rolls from In Good Taste are just what I'd want to mop up my gravy with on Thanksgiving day. Maris mentions that this dough can be frozen, then thawed and cooked on Thanksgiving (and I bet my mom's trick would work with this recipe too!)

Photo of Easy Homemade Crescent Rolls
from Baking Bites
You also couldn't go wrong with the Easy Homemade Crescent Rolls from Baking Bites. This is another type of roll I'm sure could be partially baked, frozen, thawed, and finished in the oven on Thanksgiving day because I remember my mom doing it with this type of rolls.

Photo of Rosemary Fan Rolls
from KitchenMage
Beth from KitchenMage is one of three bloggers behind the bread-baking site A Year in Bread, so you know her Rosemary Fan Rolls are going to be just as good as they look. Beth says this is a "never-fail" recipe, and if rosemary isn't your thing, you can use other fresh herbs.

Photo of KitchenAid Sixty Minute Dinner Rolls
from Erin Cooks
Finally, if you manage your time you might even be able to make these KitchenAid Sixty Minute Dinner Rolls from Erin Cooks while your other food is cooking. This recipe makes 24 rolls, which Erin made in two different shapes, but you can cut it in half if you don't want that many rolls.
More Thanksgiving-Worthy Rolls You Might Like:
Whole Grain Dinner Rolls with Three Seeds from FamilyStyle Food
Quick Rosemary Dinner Rolls from Mihow
How Rolls, One Dozen Ways from Andrea Meyers
Vegan Dinner Rolls from Novel Eats
The Best Ever 100% Whole Wheat Dinner Rolls from 11th Heaven Homemaking Haven

Do you have a great tried-and-true recipe or tip for making homemade dinner rolls? If so, please share in the comments!
(Every Thursday night on BlogHer, we spotlight five recipes with a common theme for a feature called Weekend Menu Planning, hoping one of them might make it onto the menu at your house. You can find previous recipes shared by clicking the tag Weekend Menu Planning.)
Kalyn Denny also blogs at Kalyn's Kitchen, where she's focused on creating low-glycemic recipes using fresh ingredients. Kalyn hasn't even posted a recipe for rolls, but recently she made some amazingly easy and tasty 100% Whole Grain White Whole Wheat Bread.
More Like This
Recent Posts
by Kalyn Denny
Our bloggers include LISTERINE Antiseptic in their regular oral health routine. See why and get a chance to win $100.
Read more