Weekend Menu Planning: Hot Whole Grain Cereal for Breakfast
I don't need to start out by telling you about how breakfast is the most important meal of the day, do I? I'm hoping everyone from your mother to your doctor to your high school health teacher has impressed that fact upon you sufficiently that you're making at least some effort to eat breakfast every day. Now how about kicking things up just a notch and making sure those breakfasts contain whole grains most of the time?
Whole grains are grains that haven't been refined to remove the germ and bran. All grains are good sources of vitamins and minerals and low in fat, but whole grains also contain fiber and other nutrients that are stripped off from refined grains. There's a good list of whole grains at Wikipedia on whole grains if you want to see the range of choices. The truth is that most people don't eat enough whole grains and eating them in breakfast cereal is an easy (and tasty!) way to get more of them. Here are some delicious-sounding recipe ideas for whole grain cereals that I hope will encourage you to do just that.

Photo of Pumpkin Spice Swirl Cream of Wheat
from Happy Healthy Life
I grew up on Cream of Wheat, but my mom's never looked as good as this
Pumpkin Spice Swirl Cream of Wheat
from Kathy at Happy Healthy Life.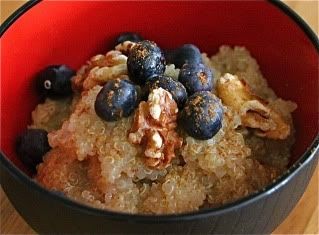 Photo of Chai Spiced Quinoa Breakfast Porridge
from Jeanette's Healthy Living
Quinoa is a grain that's trendy and with good reason -- it's much higher in protein than other whole grains. I think this
Chai Spiced Quinoa Porridge
from Jeanette's Healthy Living looks like a perfect breakfast.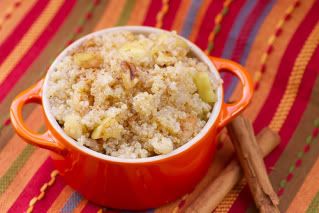 Photo of Apple-Maple Walnut Breakfast Quinoa
from Food Blogga
Susan at Food Blogga also loves quinoa, and if you have apples that aren't quite crisp any more she recommends turning them into this
Apple-Maple Walnut Breakfast Quinoa
.

Photo of Apple Cinnamon Baked Oatmeal
from Two Peas and Their Pod
Sure everyone has had oatmeal, but this
Apple Cinnamon Baked Oatmeal
from Two Peas and Their Pod was a new idea for me. I like the idea that you can be doing other things while the oatmeal cooks, and Maria says baked oatmeal reheats well.

Photo of Steel Cut Oats with Agave Nectar and Pecans
from Kalyn's Kitchen
Finally, steel cut oats are the most nutritious type of oatmeal, and I loved them when I tried cooking them in the crockpot and then eating
Steel Cut Oats with Agave Nectar and Pecans
.



More Ideas for Oatmeal:
Weekend Menu Planning: Get Some Oatmeal on the Table ~ from BlogHer
Oatmeal: How and Why to Cook it Every Day ~ from Kitchen Parade
Oatmeal with Banana and Maple Syrup ~ from Nami Nami
Persimmon and Cinnamon Oatmeal ~ from White on Rice Couple
Favorite Things to Add to Oatmeal ~ from Cheap Healthy Good (read the comments)
More Ideas for Steel-Cut Oats:
Apple-Spice Steel Cut Oats ~ from Fat Free Vegan Kitchen
Steel Cut Oats with Milk ~ from Two Peas and Their Pod
Steel-Cut Oatmeal with Blueberry Compote ~ from Jeanette's Healthy Living
Apple Steel-Cut Oatmeal ~ from My Baking Addiction
Steel Cut Oats with Caramelized Apples ~ from Baking Bites
Breakfast Cereal Ideas with Other Whole Grains:
Slow Cooker Cereal ~ from The Common Room
Slow Cooker Overnight Quinoa and Brown Rice Pudding ~ from A Year of Slow Cooking
Super Fast Quinoa Hot Cereal ~ from Food PRoof
Crockpot Whole Grain Breakfast Cereal ~ from The Nourishing Gourmet
Quinoa-Millet Hot Cereal ~ from Flavor Diva
(Every week on BlogHer, we spotlight five recipes with a common theme for a feature called Weekend Menu Planning, hoping one of them might make it onto the menu at your house. You can find previous recipes shared by checking the Weekend Menu Planning Archives or clicking the tag Weekend Menu Planning.)
Kalyn Denny also blogs at Kalyn's Kitchen where she's focused on creating low-glycemic recipes using fresh ingredients. Kalyn tries to eata breakfast every day, and usually it's Peanut Butter Oatmeal made in the microwave.
COMMENTS
Recent Posts
by Kalyn Denny
Most Popular
We asked our bloggers to craft some recipes from the different Success® Rice flavors and tell us about it. Check out their ideas and you could win a $100 Visa gift card!
Read more
Lean Pockets have no artificial flavors, a good source of protein & have 100% real cheese. Read our bloggers posts where they will tell you their guilt free experiences with Lean Pockets. Plus get a chance to win $100!
Read more