Weekend Menu Planning: Irish Soda Bread and Other St. Patrick's Day Treats
Next week is St. Patrick's Day, so this weekend is the perfect time to make some Irish (or Irish-American) foods to celebrate. Even though much of what is called Irish soda bread in the U.S. is not really authentically Irish, it's still fun to make it this time of year. The varieties of soda bread are endless, so I hope the ones I'm spotlighting will tempt you to get in the kitchen. (And if cupcakes or cookies are more your idea of holiday food, look after the soda bread recipes for some ideas for those!)

Photo of Soda Bread Biscuits
from Simply Recipes
This year I spotted a lot of little soda breads, which might be a fun variation if you've made loaves of Irish soda bread in the past. Elise offers variations from sweet to savory for these
Soda Bread Biscuits
from Simply Recipes.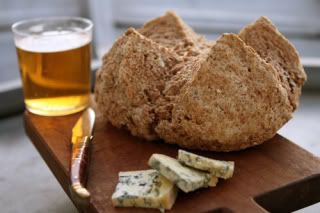 Photo of Brown Bread
from David Lebovitz
After David Lebovitz tasted brown soda bread in Ireland, he made this version of
Brown Bread
to go with some lovely Irish cheese he brought back. (Read this post for a good discussion on the differences between American and Irish soda bread.)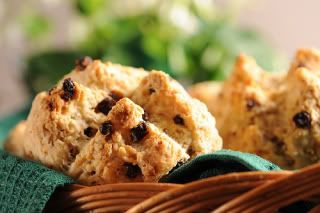 Photo of Irish Soda Bread Rolls
from Fab Frugal Food
Since Donna from Fab Frugal Food has the last name of Kelly, it's not surprising she's tried a lot of Irish soda bread through the years. Donna says these
Irish Soda Bread Rolls
are one of her favorites, and she shows how to use scissors to get the traditional X in the top of each one.

Photo of Gluten Free and Vegan Irish Soda Bread
from Gluten Free Goddess
Karina from Gluten Free Goddess uses millet and sorghum flours to create this lovely
Gluten Free and Vegan Irish Soda Bread
. Karina has several other gluten-free soda bread recipes on her blog, but her husband Steve has declared this one as his favorite.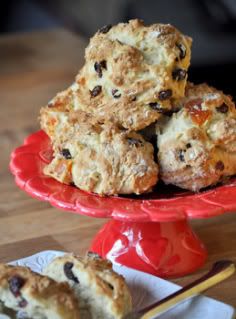 Photo of Mini Irish Soda Bread
from Baking Bites
I found more small soda breads at Baking Bites, where Nicole just uses a spoon to drop scoops of dough on a baking sheet to make
Mini Irish Soda Breads
. She cautions that the dough is quite sticky, but don't add extra flour or the soda bread will be on the tough side.

Photo of 100% Whole Wheat Brown Soda Bread
from Kalyn's Kitchen
Irish soda bread is something I never made until I started food blogging, but when I discovered it was a favorite of my slightly-Irish father, I started making it for him the last few years. Dad ate all my soda bread experiments, but this
100% Whole Wheat Brown Soda Bread
that's baked in a loaf pan was definitely his favorite.

Photo of Irish Car Bomb Cupcakes
from Mele Cotte
And if you feel the need for something sweet to celebrate St. Patrick's Day, these
Irish Car Bomb Cupcakes
from Mele Cotte should do the trick. They're named after a famous drink, which might be another good way to celebrate!
More About Irish Soda Bread:
What is Irish Soda Bread? ~ from Baking Bites
The History of Irish Soda Bread ~ from Slashfood
More Irish Soda Bread Variations to Try:
Irish Soda Bread Muffins ~ from 990 Square
Irish Soda Bread Scones ~ from Wicked Good Dinner
Whole Wheat Cheddar Cheese Kefir Irish Soda Bread ~ from Nika's Culinaria
Irish Soda Bread ~ from Taste and Tell
Irish Soda Bread ~ from The Confused Homemaker
Irish Soda Bread (Spotted Dog, Railway Cake) ~ from Amanda 's Cookin
Irish-ish Vegan Soda Bread ~ from Manifest Vegan
Rosemary and Pepper Soda Bread ~ from Daily Unadventures in Cooking
More Tasty Ideas from BlogHer for St. Patrick's Day:
Plenty of Irish Food Options for St. Patrick's Day
Put Some Irish-American Food on the Menu for St. Patrick's Day
Authentically Irish or Not, Soda Bread is Tasty for St. Patrick's Day
Celebrate St. Patrick's Day with Irish Soda Bread
More Sweet Treats for St. Patrick's Day
Lucky Leprechaun Cookies ~ from Mountain Mama Cooks
St. Patrick's Day Cookies ~ from Amanda's Cookin
St. Patrick's Day Bars ~ from I am Baker
Irish Potato Candy and Other St. Patrick's Day Fun ~ from Feels Like Home
Irish Brownie Bombs ~ from Bakers Royale
What's going to be on the menu for St. Patrick's Day at your house? If you've made or posted a recipe for something good, please share your recipe or the link in the comments.
(Every week on BlogHer, we spotlight five recipes with a common theme for a feature called Weekend Menu Planning, hoping one of them might make it onto the menu at your house. You can find previous recipes shared by checking the Weekend Menu Planning Archives or clicking the tag Weekend Menu Planning.)
Kalyn Denny also blogs at Kalyn's Kitchen, where she's focused on creating low-glycemic recipes using fresh ingredients. No matter what else is cooking at Kalyn's for St. Patrick's Day, Roasted Cabbage with Lemon is going to be on the menu every year from now on!
COMMENTS
Recent Posts
by Kalyn Denny
We asked our bloggers to craft some recipes from the different Success® Rice flavors and tell us about it. Check out their ideas and you could win a $100 Visa gift card!
Read more
Lean Pockets have no artificial flavors, a good source of protein & have 100% real cheese. Read our bloggers posts where they will tell you their guilt free experiences with Lean Pockets. Plus get a chance to win $100!
Read more