Weekend Menu Planning: It's Time to Make Green Cabbage Salad
Even though St. Patrick's Day will be over by the time you read this, if you hurry to the grocery store you can probably still take advantage of one of my favorite traditions of the day. I'm talking about ordinary green cabbage, and the way it goes on sale the week of St. Patrick's Day so people can make Irish (or Irish American) dishes like Corned Beef and Cabbage and Colcannon. I like dishes like that with cooked cabbage well enough, but what I really love is raw cabbage salads, so every year at this time I load up on cabbage while it's super cheap at the store.
To me, cabbage is the perfect winter salad vegetable. I love the crunch, the slightly sweet taste, and the way cabbage salads stay good in the fridge for a day or so (If you're lucky enough to have leftovers.) If you need more convincing, cabbage is not only a healthful cruciferous vegetable, but it's also one of The World's Healthiest Foods. If you hurry to the store this weekend you can probably buy enough cabbage to make a big salad for only a couple of dollars, so here are some cabbage salad recipes to inspire you.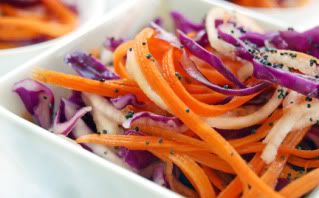 Photo of Apple, Carrot, and Cabbage Slaw with Toasted Poppy Seeds
from Wicked Good Dinner
There are a million variations of coleslaw, but a tasty-sounding combination I don't think I've seen before is this
Apple, Carrot, and Cabbage Slaw with Toasted Poppy Seeds
from Wicked Good Dinner.

Photo of Southwestern Coleslaw
from Simply Recipes
Another coleslaw that's a bit off the beaten path is this
Southwestern Coleslaw
from Simply Recipes. This one has cabbage, carrots, radishes, cilantro, and a dressing made from olive oil and rice vinegar.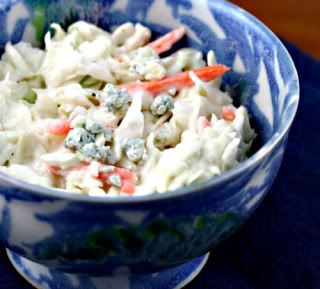 Photo of Blue Cheese Coleslaw
from The Perfect Pantry
I love blue cheese as much as I do cabbage, so this
Blue Cheese Coleslaw
from The Perfect Pantry sounds like something I'd really like.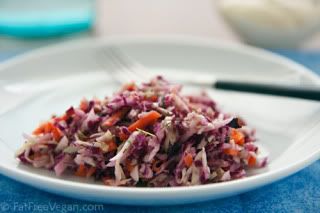 Photo of Basic Low-Fat Coleslaw
from Fat Free Vegan Kitchen
Susan from Fat Free Vegan Kitchen says she has converted her daughter to coleslaw by starting with fresh cabbage, and her recipe for
Basic Low Fat Coleslaw
is something they make together.

Photo of Swiss Chard Cabbage Salad with Garbanzo Beans,
Broccoli Stems and Cottage Cheese
from Farmgirl Fare
For a cabbage salad with extra healthy greens, how about the
Swiss Chard Cabbage Salad with Garbanzo Beans, Broccoli Stems and Cottage Cheese
from Farmgirl Fare?

Photo of Spicy Cabbage Salad with Tomatoes, Radishes, and Celery
from Kalyn's Kitchen
Finally, my own favorite new cabbage salad for 2011 is this
Spicy Cabbage Salad with Tomatoes, Radishes, and Celery
inspired by the
Puerto Rican Cabbage Salad
I spotted on Champaign Taste.
Ten More Salads with Green Cabbage:
Coleslaw with Maple Syrup ~ from Leite's Culinaria
Slaw with Thai Peanut Sauce ~ from Batter Licker
Killer Coleslaw ~ from Stephen Cooks!
Tangy Summer Slaw ~ from Fab Frugal Food
Creamy Buttermilk Coleslaw ~ from The Way the Cookie Crumbles
Hot Cabbage Slaw ~ from Jan Can Cook
Apple Cabbage Cole Slaw ~ from Dianasaur Dishes
Holy Slaw! ~ from Kitchen Parade
Seedy Tahini Vegan Cole Slaw ~ from Happy Healthy Life
Pineapple Coleslaw ~ from Real Mom Kitchen
Back in 2008 I also urged BlogHer readers to Add Some Cabbage to Your Grocery List and also shared Some New Takes on Coleslaw, so check out those posts for more tasty cabbage recipes. And if you have a great salad recipes that uses plain old green cabbage, do share it with us in the comments!
(Every week on BlogHer, we spotlight five recipes with a common theme for a feature called Weekend Menu Planning, hoping one of them might make it onto the menu at your house. You can find previous recipes shared by checking the Weekend Menu Planning Archives or clicking the tag Weekend Menu Planning.)
Kalyn Denny also blogs at Kalyn's Kitchen where she's focused on creating low-glycemic recipes using fresh ingredients. If you asked which of her favorite cabbage salads Kalyn has made the most often, it would have to be Spicy Mexican Slaw.
ADD A COMMENT
Recent Posts
by Kalyn Denny
Most Popular
Simply Beverages™ use never-from-concentrate juices in all of their beverages. And they never add any preservatives, colors or artificial flavors. Read our bloggers' posts and find fun beverage recipes you can serve this summer! Plus get a chance to win $100.
Read more
Excedrin® Migraine relieves sensitivity to light, sensitivity to sound, nausea and relieves pain in just 30 minutes. Read our bloggers' posts as they talk about their experiences with migraine and how they cope with it. Plus get a chance to win $100!
Read more