Weekend Menu Planning: It's Time to Make Ice Cream!
The school year has ended or is ending soon all over the U.S., and for many families making ice cream goes hand-in-hand with the arrival of summer. Making ice cream with your kids is one sure way to get them to eat your cooking, and there aren't many adults who'd turn down homemade ice cream either. Every year at this time I'm amazed at the creative ice cream recipes that start showing up from food bloggers, so here are a few new ideas for Ice Cream Summer 2009.

Photo of Em's Favorite Lemon Ice Cream
from The Repressed Pastry Chef
I think lemon is one of the best flavors any time of year, and
Em's Favorite Lemon Ice Cream
from The Repressed Pastry Chef sounds fantastic. Most kids like lemonade, so I bet they'd like this ice cream too.

Photo of Strawberry Frozen Yogurt
from Dianne's Dishes.
Dianne from Dianne's Dishes takes advantage of the fresh strawberry season to make some
Strawberry Frozen Yogurt
in her ice cream maker. I'm guessing this would be a hit with the kids, who probably wouldn't realize it's lighter than regular ice cream.

Photo of Strawberry-Rhubarb Ice Cream with Agave
from Mrs. W's Kitchen
Another ice cream with kid-friendly strawberries, but this
Strawberry-Rhubarb Ice Cream with Agave
from Mrs. W's Kitchen may be a more healthful choice for adults who want to avoid sugar.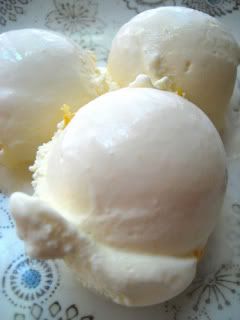 Photo of Orange Ice Cream with Dates
from Vanilla Garlic.
At Vanilla Garlic Garrett makes
Orange Ice Cream with Dates
, which sounds to me like it would appeal to both kids and adults. I'm intrigued by the idea of dates in ice cream, and I bet it's a great addition.

Photo of Pichet Ong's Vietnamese Coffee Ice Cream
from Fresh From the Oven
Finally, kids can't have all the ice cream, so
Pichet Ong's Vietnamese Coffee Ice Cream
from Fresh From the Oven is an adult ice cream variation that I bet would get rave reviews at any dinner party.
More Ice Cream Flavors from Food Bloggers
~Summer Means Ice Cream (more unusual ice cream flavors from last summer at BlogHer)
~Maple Pecan Ice Cream from Chocolate and Zucchini
~99% Fat Free Strawberry Vegan Ice Cream from The Happy Herbivore
~Brown Butter Ice Cream from The Traveler's Lunchbox
~Double Thin Mint Ice Cream from Erin Cooks
~Avocado Ice Cream from Baking Bites
Have you made any ice cream yet this summer? If you have a great ice cream recipe to share, please leave the recipe or a link in the comments. If you haven't made ice cream yet, it would be fun to hear which of these ice cream variations really catches your eye.
(Every Thursday night on BlogHer, we spotlight five recipes with a common theme for a feature called Weekend Menu Planning, hoping one of them might make it onto the menu at your house. You can find previous recipes shared by clicking the tag Weekend Menu Planning.)
Kalyn Denny shares her passion for low-glycemic cooking at Kalyn's Kitchen where she's never made ice cream (yet!) but loves to eat Greek Yogurt with Agave Nectar and Pecans in the summer.
ADD A COMMENT
Recent Posts
by Kalyn Denny
Most Popular
We asked our bloggers to craft some recipes from the different Success® Rice flavors and tell us about it. Check out their ideas and you could win a $100 Visa gift card!
Read more
Lean Pockets have no artificial flavors, a good source of protein & have 100% real cheese. Read our bloggers posts where they will tell you their guilt free experiences with Lean Pockets. Plus get a chance to win $100!
Read more