Weekend Menu Planning: January is a Time to Eat Your Greens, and Let's Start with Kale
BlogHer Original Post
January is the time when most people try to eat more healthful food and maybe even lose a few pounds. So how is that working out for you? At my house I'm eating a lot more vegetables and lean proteins, and scouring blogs and cookbooks looking for diet-friendly recipes. You probably know that leafy greens are nutritious and low in calories, so this month I'm going to spotlight a different leafy green vegetable every week to see if I can inspire you to put more greens on your menu. I'm a fan of a site called The World's Healthiest Foods, which claims that Kale has "more nutritional value for fewer calories than almost any other food" so I'm starting with kale.
Even though I know Kale is highly nutritious, it's a plant I haven't eaten much. I've cooked Red Russian Kale, which I grow in my garden, but I sheepishly admit I've never once cooked dark green kale. In fact, for most of my life I was indifferent to greens and it wasn't until I started food blogging that I tried things like collards, escarole, swiss chard, and arugula. Recently I started noticing more and more interesting looking recipes that featured kale.
All types of kale have impressive health benefits, and although there are quite a few varieties, The World's Healthiest Foods divides them into three types of kale: curly kale (dark green and slightly bitter varieties), ornamental kale (green, white, or purple like my Red Russian Kale variety, with a milder flavor), and dinosaur kale (dark blue-green leaves with a sweeter flavor than curly kale.) Kale has a lot of culinary uses, and is eaten around the world, so let's see what types of things food bloggers have been cooking with this healthy green.

Photo of Tuscan Kale with Chickpeas and Chile Pepper
from Lucullian Delights
When you combine kale with chickpeas, you have two nutritious foods that are low in calories, so Tuscan Kale with Chickpeas and Chile Pepper from Lucullian Delights looks perfect for January. And if you're lucky enough to be living in Tuscany like Ilva is, she says this type of kale is just what you must eat with your first bottle of newly-pressed olive oil!

Photo of Lentil, Kale, and Potato Soup
from Manifest Vegan
Kale is a sturdy green that can stand up to long cooking times, so the Lentil, Kale, and Potato Soup from Manifest Vegan is a perfect way to use it. This soup also has lemon juice, lemon zest, and lots of herbs and spices adding flavor.

Photo of African Kale and Yam Soup
from Happy Herbivore
Another delicious-looking soup with kale is this African Kale and Yam Soup from Happy Herbivore. This soup is also vegan, but even if you're a meat eater most of the time, vegan often means lower in calories and the broth for this soup with miso and curry sounds delicious!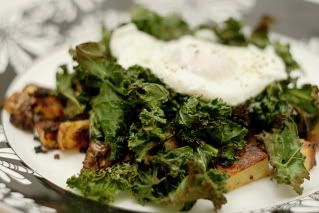 Photo of Roasted Kale
from The Way the Cookie Crumbles
One of the hottest ideas to hit the food blogging world is Roasted Kale, shown here topped with an egg at The Way the Cookie Crumbles. The roasted kale can also be a snack, and I spotted Roasted Kale Chips at Eat Real and Kale Chips at Daily Unadventures in Cooking.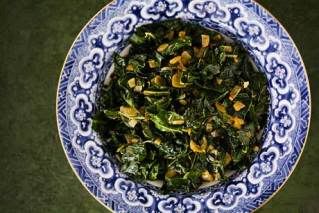 Photo of Sauteed Kale with Smoked Paprika
from Simply Recipes
Finally, Kale can be simply sauteed and served as a side dish of greens like this Sauteed Kale with Smoked Paprika from Simply Recipes. Elise says this is the best kale she's ever eaten, and as soon as I heard Kale + smoked paprika, it sounded like a winner to me!
More Yummy Kale Recipes to Try:
~Yummy Cauliflower, Kale, and Mushroom Bake from Everyday Goddess looks tasty and it's South Beach Diet friendly as well!
~You may never have thought of kale as a breakfast food, but the Bacon, Kale, and Sweet Potato Breakfast Burritos at Perry's Plate definitely sound tasty.
~Spicy Garlic Shrimp with Kale and Quinoa is a combination I never would have thought of, but it looks delicious at Healthy Green Kitchen.
~Lolo says people who aren't used to kale, quinoa, and tahini might be skeptical of the recipe, but I thought the Kale Soup at Vegan Yum Yum looked intriguing.
~The Kale and Mushrooms with Polenta was so good at Cheap Healthy Good that they had to write a poem about it!
More About Kale:
~Cook Kale Thoroughly says Fine Cooking Magazine.
~How to Blanch and Freeze Kale from Not Martha.
~For Good Health: Eat Your Greens at BlogHer
What have you cooked with kale? If you have ideas, or recipes or links to share, please let us know about it in the comments.
(Every Thursday night on BlogHer, we spotlight five recipes with a common theme for a feature called Weekend Menu Planning, hoping one of them might make it onto the menu at your house. You can find previous recipes shared by clicking the tag Weekend Menu Planning.)
Kalyn Denny also blogs at Kalyn's Kitchen where she's focused on creating low-glycemic recipes using fresh ingredients. When she had Red Russian Kale from the garden, Kalyn made Autumn Harvest Soup with Butternut Squash, Kale, and Farro or Brown Rice.
More Like This
Recent Posts
by Kalyn Denny
Del Monte Fruit Burst Squeezers are healthy snacks you can offer your children after a long day at school. 17 moms offer their best back to school snacking and lunch tips. Find some great ideas and get a chance to win a $100 VISA Gift Card on each blog.
Read more
Recent Comments
on Eat Your Greens