Weekend Menu Planning: Make Some Sweet or Savory Muffins for Breakfast
BlogHer Original Post
Muffins are one of those foods that can be pretty much whatever you want to make of them. Whether you you want your muffins to be sweet or savory, nutritious or indulgent, big or mini, there are endless muffin variations. Here are some great-sounding muffins I've spotted lately on the BlogHer Network Food Blogs that might be a great addition to the breakfast menu at your house.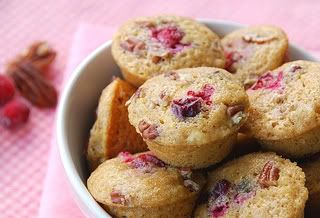 Photo of Banana, Cranberry and Honey
Mini Muffins from Food Blogga.
Mini-Muffins are great because you can eat twice as many of them, and the
Low Fat Banana, Cranberry, and Honey Mini Muffins
from Food Blogga are just so darn cute. Wouldn't you love to have these on your breakfast table?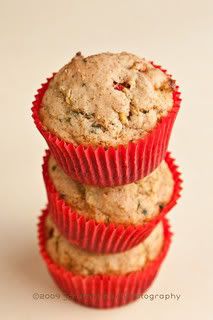 Photo of Savory Corn and Pepper Muffins
from Scrumptious Photography.
Lots of bloggers made
Savory Corn and Pepper Muffins
for a recent blog event, but some of the most beautiful ones I saw were from Scruptious Photography. You have to agree, they look pretty scrumptious, right? I'm not much of a sweets eater, so savory muffins like this sound like a great breakfast to me.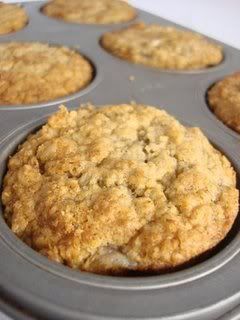 Photo of Oatmeal Banana Muffins from Half Baked.
If you want a gluten-free muffin option, how about these
Guilt (and gluten) Free Oatmeal Banana Muffins
from Half Baked, who says the muffins are like a portable bowl of oatmeal.

Photo of Apple Crisp Muffins from Happy Herbivore.
Whether or not you're a vegetarian, the
Fat Free Vegan Apple Crisp Muffins
from Happy Herbivore look like a good breakfast option, and Lindsay says this is her most popular muffin recipe.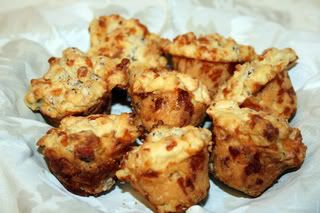 Photo of Sausage Cheese Muffins from Yellow Jeep Blonde.
Another one that really appeals to my savory tastebuds is the
Sausage and Cheese Muffins
from Yellow Jeep Blonde, who says they're a similar recipe as the classic Sausage Cheese Ball Appetizers.
Finally, no photo to show, but the Quick and Easy Low Gi Breakfast Muffins at Susie J have the interesting ingredient of cooked barley, definitely a unique addition that I think sounds great!
(Every Thursday night on BlogHer, we spotlight five recipes with a common theme for a feature called Weekend Menu Planning, hoping one of them might make it onto the menu at your house. You can find previous recipes shared by clicking the tag Weekend Menu Planning. If you have a favorite muffin recipe, we'd love to see it! Please share by leaving a link or your recipe in the comments.)
Kalyn Denny shares her passion for low-glycemic cooking at Kalyn's Kitchen where she makes things like Cottage Cheese and Egg Breakfast Muffins with Mushrooms and Feta Cheese to indulge her savory tastebuds.
Trending Now
More Like This
Recent Posts
by Kalyn Denny
Mom has a lot to check off her list this Summer, and Kellogg's cereal can help her get it done. How will you make the most of your Summer? Check out our blog posts as we share with you inspirational ideas for celebrating the moments of magic that will happen during this activity-filled time of year! PLUS enter for a chance to win as $100 Walmart gift card!
Read more
Kelloggs Walmart Shoppers
Bloggers show us how they use cereal to create fun, summer memories. Read their posts and enter for a chance to win $100!