Weekend Menu Planning: Make Something with Blueberries for National Blueberry Month!
BlogHer Original Post
July is National Blueberry Month in the U.S., officially proclaimed by the U.S. Department of Agriculture in 1999. That means blueberries are going to be plentiful and cheaper than usual, the perfect time to make something delicious with blueberries.
And while we're on the subject, surely you've heard that blueberries are not only considered to be Superfoods, but they're also on the list of The World's Healthiest Foods. In fact, in describing blueberries, the folks at The World's Healthiest Foods say, "Blueberries are literally bursting with nutrients and flavor, yet very low in calories. Recently, researchers at Tufts University analyzed 60 fruits and vegetables for their antioxidant capability. Blueberries came out on top, rating highest in their capacity to destroy free radicals."
All that nutrition packed into an ingredient that's perfect for so many sweet or savory dishes. Here are some tempting ways to eat blueberries.

Photo of Blueberry Cobbler
from Mele Cotte.
At Mele Cotte, Chris started out to make peach cobbler, but when she didn't have peaches she made
Blueberry Cobbler
with blueberries from the freezer. This one looks delicious and sounds easy to make.

Photo of Blueberry Crumb Coffee Cake
from Lovin' From the Oven.
Another blueberry sweet treat that sounds great is the
Blueberry Crumb Coffee Cake
made by Kim at Lovin' From the Oven. Kim used cookie cutters to cut it into fun shapes, but you could make a regular round coffeecake too.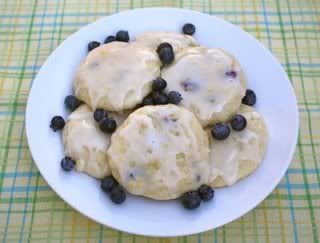 Photo of Lemon Blueberry Cookies
from Two Peas and Their Pod.
Lemon Blueberry Cookies
sound great to me, and Maria from Two Peas and Their Pod says these cookies are light, fluffy, and lemony. There's even a lemon glaze, for that finishing touch of lemon.

Photo of Blueberry Banana Bread
from Fat Free Vegan Kitchen.
If you'd like something less sweet and loaded with healthful ingredients, how about
Blueberry Banana Bread
from Fat Free Vegan Kitchen. Susan even uses white whole wheat flour in this and sweetens it with agave nectar (two of my favorite ingredients!)

Photo of Mom's Blueberry Sweet Rolls
from Food Blogga.
Finally, a slightly unusual use of blueberries is
Mom's Blueberry Sweet Rolls
from Food Blogga. Susan's mom has been making these since Susan was a little girl, which I'd say makes them a delicious family tradition!
What's your favorite treat to make with blueberries? Please share in the comments about your favorite blueberry recipe or a link to a blueberry recipe you'd like to try.
(Every Thursday night on BlogHer, we spotlight five recipes with a common theme for a feature called Weekend Menu Planning, hoping one of them might make it onto the menu at your house. You can find previous recipes shared by clicking the tag Weekend Menu Planning.)
Kalyn Denny also blogs at Kalyn's Kitchen, where her focus is on low-glycemic recipes using fresh ingredients. Kalyn's favorite recipe with blueberries would have to be Peach and Berry Cobbler.
More Like This
Recent Posts
by Kalyn Denny
Del Monte Fruit Burst Squeezers are healthy snacks you can offer your children after a long day at school. 17 moms offer their best back to school snacking and lunch tips. Find some great ideas and get a chance to win a $100 VISA Gift Card on each blog.
Read more
Dixie Ultra Moments® Reviews
Celebrate Life's Special Moments with Dixie Ultra Moments®. They're strong enough to hold up to any gathering or party. Go ahead. Celebrate with style and strength!