Weekend Menu Planning: Make Sorbet for the Last Days of Summer
For those of us in the northern hemisphere it might feel like the end of summer when kids go back to school, but the truth is most of us have about six weeks of hot weather left. Sorbet is an easy and delicious dessert for making the most of these last warm days of summer. The name sorbet refers to sweet frozen desserts that don't contain cream or other dairy products, and sorbet is usually (but not always) made with fruit juice and/or pureed fruit. Most sorbet recipes use an ice cream freezer, but there are some that don't require one. There are endless types of sorbet to choose from, so I'm hoping that some of these sorbet ideas from food blogs will inspire you to try making some.

Photo of Blueberry Pomegranate Sorbet
from Our Life in the Kitchen

I love the addition of lemon juice and lemon zest to this
Blueberry Pomegranate Sorbet
from Our Life in the Kitchen. Karen says this was her first time making sorbet, but now she's hooked.

Photo of Dark Chocolate Sorbet
from Chocolate and Zucchini
What chocolate lover could resist this
Dark Chocolate Sorbet
from Chocolate and Zucchini? Clotilde also has recipes that look good for
Lemon Verbena Sorbet
and
Mango Sorbet
.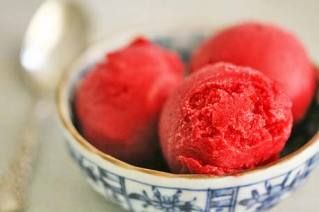 Photo of Plum Sorbet
from Simply Recipes
Another food bloggers who loves sorbet is Elise from Simply Recipes, and I was captivated by the color of this
Plum Sorbet
.
Meyer Lemon Sorbet
and
Rhubarb Sorbet
also look delightful at Simply Recipes.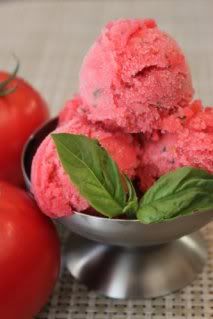 Photo of Tomato Basil Sorbet
from Mele Cotte
Sometimes sorbet can have a more savory flavor, and
Tomato Basil Sorbet
from Mele Cotte sounds perfect for this time of year.

Photo of Ridiculously Easy Pineapple Sorbet
from Fat Free Vegan Kitchen
Finally, I promised a sorbet recipe that didn't need an ice cream freezer, and I think the method used in
Ridiculously Easy Pineapple Sorbet
from Fat Free Vegan Kitchen could probably be adapted to many other types of fruit.
More Delicious Sorbet Ideas to Tempt You!
Have you ever made sorbet? If you have a good sorbet idea or a recipe, please share in the comments!

(Every week on BlogHer, we spotlight five recipes with a common theme for a feature called Weekend Menu Planning, hoping one of them might make it onto the menu at your house. You can find previous recipes shared by checking the Weekend Menu Planning Archives or clicking the tag Weekend Menu Planning.)
Kalyn Denny also blogs at Kalyn's Kitchen where she's focused on creating low-glycemic recipes using fresh ingredients. Kalyn is pretty sure she needs to try making sorbet, but she hasn't done it yet!
ADD A COMMENT
Recent Posts
by Kalyn Denny
Most Popular
Chateau Ste. Michelle ALWAYS delivers remarkable wine experiences. We asked our bloggers to try Chateau Ste. Michelle wine and share the story behind their perfect sip. Read their reviews plus get a chance to win $100!
Read more
Latest comments
The enamel of baby teeth and new adult teeth is vulnerable to damage. Help protect your child's teeth for years to come by using ProNamel 6-12 Years Toothpaste. Read our bloggers' posts and see you should start your kids with using ProNamel 6-12 Years Toothpaste plus get a chance to win $100!
Read more