Weekend Menu Planning: Potato Salad for the Fourth of July
BlogHer Original Post
Potato salad is one of those classic summer comfort foods that's always a crowd-pleaser, and most families have their traditional potato salad recipe. But when you really start thinking about potato salad possibilities, there are endless variations that sound good. Here are some different potato salad ideas from food bloggers. Who knows; maybe one of these could become your family's new favorite potato salad recipe!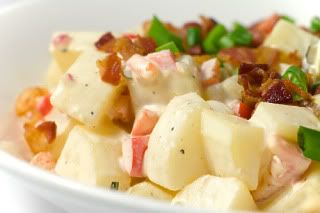 Photo of Potato Salad
from Life's Ambrosia
Life's Ambrosia has added interest with bacon, red onion, diced dill pickles, and diced red bell peppers.

Photo of Bacon Ranch Potato Salad
from Cora Cooks
There's also bacon in the salad from Cora Cooks, which also has celery, green onions, hard-boiled eggs, and ranch dressing to moisten the salad.

Photo of Southwestern Potato Salad
from A Veggie Venture
The Veggie Venture's Southwestern Potato Salad has a dressing that's lightened up with buttermilk, but there is still plenty of flavor from the jalapeno, lime, and chipotle.

Photo of Creole Potato Salad
from Simply Recipes
For another potato salad with a bit of spice, how about this one from Simply Recipes? Her Creole Potato Salad uses Creole-style mustard to give the salad a kick.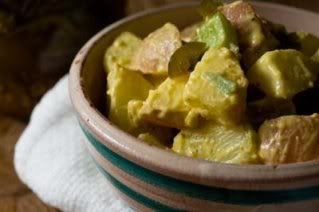 Photo of Texas Potato Salad
from Homesick Texan
Finally, Homesick Texan's Texas Potato Salad may look traditional, but Lisa adds bread and butter jalapeno pickles and jalapeno pickle juice to spice it up.
Ten More Takes on Potato Salad:
Ottolenghi's Potato Salad with Yogurt and Horseradish ~ from The Wednesday Chef
Perfect Potato Salad from The Pioneer Woman Cooks
Baked Potato Salad ~ from Buns in My Oven
Deconstructed Italian Potato Salad ~ from Blue Kitchen
Red Potato Salad ~ from Andrea Meyers
Smoked Paprika Potato Salad ~ from Chocolate and Zucchini
Patriotic Red, White, and Blue Potato Salad ~ from Food Blogga
Potato Salad with Sesame Dressing ~ from The Perfect Pantry
Black Truffle Potato Salad ~ from Chez Us
Potato Salad with Rosemary Roasted Fennel and Creamy Mustard and Honey Dressing from Lucullian Delights
Does your family have a favorite or non-traditional recipe for potato salad? If so, please share a recipe link or your recipe in the comments.
(Every week on BlogHer, we spotlight five recipes with a common theme for a feature called Weekend Menu Planning, hoping one of them might make it onto the menu at your house. You can find previous recipes shared by checking the Weekend Menu Planning Archives or clicking the tag Weekend Menu Planning.)
Kalyn Denny also blogs at Kalyn's Kitchen, where she's focused on creating low-glycemic recipes using fresh ingredients. Kalyn only eats potato salad when it's made by her sister Sandee, who makes the world's best potato salad, but Kalyn recently did make Grilled Sweet Potato Salad with Green Onion, Basil, Thyme, and Feta.
Comments
More Like This
Recent Posts
by Kalyn Denny
Help protect your family from the transmission of harmful bacteria and viruses! Use Lysol's Full Bathroom Range to remove soap scum, lime scale, and everyday dirt and grime to leave your bathroom smelling clean and fresh.
Read more
FoodSaver® Reviews & Giveaways
Save time, money and space with the FoodSaver® Vacuum Sealing System! Air is the enemy of freshness and FoodSaver® vacuum sealers remove and lock out air and moisture. It keeps food fresh up to 5x longer! Read our bloggers' posts and know more about FoodSaver® plus get a chance to win $100!